Federal Student Loan Interest Rates Going Up More Than 1% for 2022-23
Federal college loans are about to become more expensive. Federal student loan interest rates are increasing this summer by more than one percentage point. The new rates will take effect on July 1, 2022.
Federal Loan Interest Rates
The Direct Subsidized Loans and Direct Unsubsidized Loans for undergraduate degrees will increase to 4.99 percent. Direct Unsubsidized Loans for graduate or professional degrees will now be at 6.54, and the Direct PLUS Loan will be at 7.54 percent, affecting graduate or professional students and the parents who take out these loans to help their dependent children get their degree. The fixed rates for federal student loans are set every May for the upcoming school year and are effective from July 1 to June 30. The rates are based on a fixed increase with a cap, plus 10-year Treasury notes.
Current Loans & Private Loans
The new rates are only applied to those federal loans which are taken out to pay for the 2022-2023 academic year. Any existing education debt will not be changed by the new rates. The new federal rates will not apply to private student loans either. Private student loans rates will still vary from lender to lender. Private loans are a combination of both fixed rates and variable rates.
Choosing to Borrow for College
While borrowing costs won't deter most families who need to use loans as a form of payment for college, the new higher interest rates can still mean bigger debts. This is especially true when borrowing is combined with large loan amounts. As federal student loan interest rates are rising, it can serve as a wakeup call by encouraging borrowers to take a deep look at the reasons they're willing to take on these loans and at how much they're willing to borrow.
Investing in debt to finance higher education can be a great tool, but borrowers must be willing to assess whether the investment will pay off when graduation time comes. It's always good practice to figure out whether the debt borrowed can be easily paid off once the student graduates and they start earning. It is suggested that your total student debt should be less than your annual income.
Moving Forward
Student loans can be a valuable resource in your college funding plan, but first, you want to fully understand what is available to you and your family. If you are ready to start understanding your student loan options better, contact Westface College Planning. We are here to help you with all your college financial planning and loan questions!
Ready for your own success story?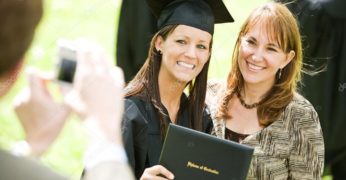 If you're a typical parent with college-bound students, you're probably overwhelmed. You want to help your sons and daughters make the right choices and prevent overpaying for their education. You're not alone! We're here to help. Schedule your free consultation today – click below to get started!
Catch our free, on-demand webinar:
How to Survive Paying for College
Join Beatrice Schultz, CFP® for our on-demand webinar, where she provides parents with the exact steps that often greatly lower the cost of college, even if there's little time to prepare.