What to Do if You've Been Waitlisted
College acceptance letters have been received, but what about those students who have been waitlisted? Most high school seniors received letters of acceptance into various colleges on May 1st, but some received notice that they are on the waitlist. While this information can be a little upsetting, there may still be a chance of gaining admittance.
If your student happens to be put on a waitlist, this means that the college has finished reviewing their file and has decided to put them on a waiting list for admission. They will remain on this waitlist until a spot opens for them. Waitlists are a backup plan for colleges, which allows them to ensure that they have enough students to fill all their vacancies. Being put on a waitlist leaves students in a state of uncertainty about what college they'll be attending.
College applicants have the choice to accept or reject a school's waitlist offer, so students and their parents should make the decision as soon as possible. If your aspiring college student finds themselves in this situation, you are probably wondering what the next steps to take are, especially if your student decides to be waitlisted.
Here are 5 important steps to take, once your student is placed on the waitlist:
Do Some Research – Admissions committees may not always admit students from the waitlist, so if your student has chosen to be placed on a waitlist, do a little research. Find out if the school has pulled students from their waitlist in the past and, if they have, just how many students were admitted from the waitlist. The odds of being selected from a waitlist really depend on the school.

Email a Letter of Continued Interest – Applicants should contact the admissions office to learn more about that college's waitlist process, as procedures may differ depending on the school. Some colleges may ask for additional materials from their applicants, while some might not consider the extra information even if provided. Still, choosing to email a letter of continued interest can be beneficial, even if the school doesn't require any follow-up. The letter should express why the applicant is still a good fit for the college, plus any important updates about personal or academic achievements.

Make Backup Plans – If your student chooses to be placed on a waitlist for their favorite school, it is wise to make sure they solidify a backup plan. They shouldn't place all their hope on a waitlisted college choice. Your student should send enrollment forms and pay their deposit to secure a spot in their backup school. If they get accepted into their first college choice later, they can always change plans, but at least this way they won't be putting themselves into a situation of having nowhere to go.
Decide Quickly if Admitted – Most colleges will try to let applicants know by June 30th, but this can vary from school to school. If your student does receive the admissions offer they've been hoping for, be prepared to act quickly. Typically, as soon as that offer is made, colleges will want an answer soon and often within the first few days. Your family should be ready for this possibility and have discussed in advance what is affordable and any other key factors in your student's final college choice.

Notify Backup Colleges – If your student is lucky enough to gain admission into their favorite college off the waitlist, they should make sure to notify any backup schools where they submitted enrollment deposits that they will not be attending, even though most deposits are considered nonrefundable.
If your student is waitlisted, remember they haven't been denied admission, they have just been asked to wait a bit longer, pending a final decision from the college. Your student should be informed about the school's waitlist procedure, send a letter of continued interest, and then wait for the college's ultimate decision, all while solidifying their backup plan.

At Westface College Planning can help you navigate the college planning process from start to finish. Sign up for a complimentary consultation to learn more about how we can help you with your family's college planning process!
Ready for your own success story?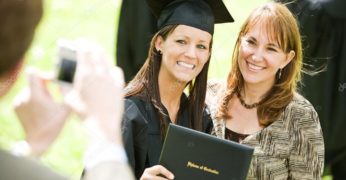 If you're a typical parent with college-bound students, you're probably overwhelmed. You want to help your sons and daughters make the right choices and prevent overpaying for their education. You're not alone! We're here to help. Schedule your free consultation today – click below to get started!
Catch our free, on-demand webinar:
How to Survive Paying for College
Join Beatrice Schultz, CFP® for our on-demand webinar, where she provides parents with the exact steps that often greatly lower the cost of college, even if there's little time to prepare.