The Benefits of Taking the Community College Route  
For students, figuring out the best way to start their college career is a major step in the college planning process. College is an expensive investment, so exploring the option of attending community college is a smart move and can help students decide if it is the right choice for them. Here are some important things for students to consider when looking at the benefits of taking the community college route.
Financial Affordability   
One considerable benefit of attending a community college is its low cost of attendance. We all know about the potential mountain of debt that can come with student loans, so going to a community college is a smart way to avoid creating a larger college debt. The tuition costs of community colleges are often lower than universities and many will offer reduced rates for in-state students. Students who choose community college can still get a worthwhile college experience all while saving money.
Students Can Transfer to a University 
Community college offers students a path to a four-year college. Students can transfer credits ensuring that their time and effort does not get wasted, as many four-year universities have transfer agreements with local community colleges. These agreements allow students who complete the necessary requirements the ability to easily transfer into a four-year program at a nearby university. Transferring to a university from a community college gives students a way to earn a bachelor's degree while only having to pay for two years of higher tuition.
Vocational Training Options  
Most community colleges tend to offer a wide range of vocational training programs in addition to associate degrees, and transfer degree programs. Students who want to pursue trades in health care, technology, engineering, business, and other vocations can take specifically designed courses to work towards a career in these fields. These vocational studies often include programs where students can earn a professional certification in a much shorter time than the traditional four-year degree would take to complete.
Selecting a Major Without Pressure  
By attending community college students can explore their education interests at their own pace, without the added pressure. This can be especially true for students who haven't decided what they want to study yet, as not all students have everything figured out or know exactly what their next step is. It can be overwhelming to select a major without knowing what they want to pursue later in life, especially with the large expense involved.
Students can attend classes at the comfort of their local community college and take the time to evaluate what major matches their dreams for their future. This is one of the wonderful things about going to a community college, that students can experiment with taking the courses they are interested in while continuing their academic progress and not breaking the bank.
Flexibility With Scheduling  
Many community colleges will offer part-time academic coursework. Part-time coursework allows students to attend college classes at their desired pace of a few days per week and keep working a full or part-time job. Community college offers flexibility for a greater school-life balance.
Students can build their class schedules around their personal needs, allowing for a healthy mix of school and personal life. The choice of online and day and night classes at community colleges also provides students with more ways to balance work and personal obligations with their academic obligations.
Community college is an excellent choice for many students, so taking the time to investigate the important benefits of this route will be helpful when it comes to making the choice of what kind of college to attend.
If you have any questions about attending community college or need guidance on making a college financial plan, please reach out for a complimentary consultation so we can help make this process go smoothly!
Ready for your own success story?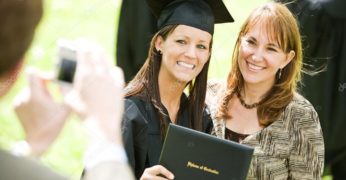 If you're a typical parent with college-bound students, you're probably overwhelmed. You want to help your sons and daughters make the right choices and prevent overpaying for their education. You're not alone! We're here to help. Schedule your free consultation today – click below to get started!
Catch our free, on-demand webinar:
How to Survive Paying for College
Join Beatrice Schultz, CFP® for our on-demand webinar, where she provides parents with the exact steps that often greatly lower the cost of college, even if there's little time to prepare.