Student Loans Got You Down? Take Control Now!
The entire team at Westface College Planning wishes you a fortuitous New Year! Along with setting resolutions, now is the perfect time to tackle college planning goals to ensure you and your student are financially fit for this important life stage. If you have any questions about the best strategies for 2020, give us a call!
Did you know that retirees face the heaviest burden of student loan debt? College costs are so high that students cannot qualify for enough loans to pay the full expense, so parents take on the burden. There are no gatekeepers to save you from borrowing more than you can afford to pay back. You do not want to become a part of this crisis!
Student loan debt is also so high that it taxes all aspects of graduates' lives, from postponing marriage and parenthood, to buying a house and saving for retirement. Dig deeper into the reality of this phenomenon with CNBC and how it has defined these young adults' lives.
Make sure your college funding plan and golden years are on track now, before you or your kids become one of the statistics in this debt crisis. Give me a call at 360-818-7728, or sign up for a complimentary college funding consultation or educational webinar today!
I look forward to talking with you soon!
~ Trixie
Tips For Parents
Why Student Loan Debt Is Ballooning
For Those 50 And Up
Retirement should be filled with plenty of carefree days, peppered with a few bucket-list-worthy adventures. Headaches, such as student loans, ideally should be long gone.
But increasingly, some retirees are wondering how they're going to pay the utilities or the rent in retirement, thanks to monthly student loan bills that add up to hundreds of dollars a month.
Ever since the Great Recession ended, student loan debt has been building among older consumers across the country. The excitement of going to college is top of mind now as high school seniors begin receiving college acceptance letters. Once the financial aid letters arrive in January or later, it will be time for brutally honest, welcome-to-reality conversations.
Learn more about retirement and student loan debt on USA Today.
For daily tips and advice follow Westface College Planning on Facebook!
Tips By Trix
Tip #1: Monies up to $10,000 (per student) from a 529 plan can now be used to pay qualified student loans in some states.

Tip #2: The New Year is an excellent time to check-in with your student to make sure they are staying on track with their college budget and monthly expenses.

Tip #3: To help your student find a scholarship, have them make a list of their distinctive traits, such as their heritage, accomplishments and extracurricular activities. Then, use those characteristics to find a match.
Want more helpful tips on how to create a college funding plan? Contact us today for a complimentary consultation!
On-Demand Free Webinar
Enroll in our FREE on-demand webinar and learn how to calculate:
Expected Family Contribution (EFC)
Cost of Attendance (CoA)
FAFSA & CSS profile
Public vs. private costs
How you can afford college without jeopardizing retirement
Enroll for free now! Just click the button below!
Fun College Facts
In 1940, one out of every 20 adults held a B.A. degree in the U.S.
The Ivy League consists of 8 universities: Yale, Harvard, Princeton, Penn, Brown, Columbia, Cornell and Dartmouth
Phi Beta Kappa, founded in 1776 by John Heath, was the first Greek student society
In College News
How Student Debt Came To Define People's Lives
Student loans have become a defining feature of American life. It was 10 years ago that education debt eclipsed credit card debt.
The next year, in 2011, it exceeded auto debt. As we enter a new decade, outstanding student debt trails only mortgages and is expected to top $2 trillion in the next couple of years.

Around 43 million people in the U.S. are in debt for their education. Each year, 70% of college graduates start off their lives in the red. And their average balance is around $30,000, up from $10,000 in the early 1990s. Wages haven't kept up. Starting salaries for new college graduates have grown less than 1% over the past two years, remaining at around $50,000.
As a result, repayment has proved difficult for many people. Nearly 30% of borrowers are in delinquency or default.
Ready for your own success story?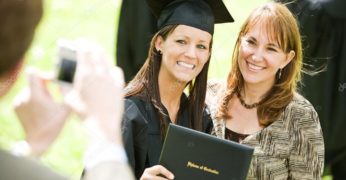 If you're a typical parent with college-bound students, you're probably overwhelmed. You want to help your sons and daughters make the right choices and prevent overpaying for their education. You're not alone! We're here to help. Schedule your free consultation today – click below to get started!
Catch our free, on-demand webinar:
How to Survive Paying for College
Join Beatrice Schultz, CFP® for our on-demand webinar, where she provides parents with the exact steps that often greatly lower the cost of college, even if there's little time to prepare.