Score Money For Your Athlete, Beat College-Bound Stress & More!
Happy December! The merriment and bustle of the holiday season are upon us, and that means there are plenty of year-end college prep to-dos for families and students to wrap up. If you have questions or need help with your college funding plan, give us a call!
Is your athletic student interested in playing their sport in college? They might be able to qualify for college money to help realize their dream! Follow these seven tips to put them on the right path to score scholarships, grants and merit aid.
Have you noticed your teen stressing out about upcoming college admission decisions? During this time of high stress, it is important to reinforce how proud you are of their accomplishments and remind them that no matter what their decision is, everything will be okay.
Lastly, don't forget you need to file the FAFSA and CSS Profile as soon as possible! If you have questions about this process or creating a college funding plan, give me a call at 360-818-7728,  or sign up for a complimentary college funding consultation or educational webinar today!
I wish everyone the merriest of holidays and look forward to talking with you soon!
~ Trixie
Tips For Parents
Score Big And Get Financial Aid For Athletes
Your student participates in high school sports and has become a promising athlete. With college on the horizon, you might be asking yourself two questions.
First, can their skills at sports tie into their future at college? And if so, are there steps you can take to secure financial aid for athletes or land an athletic scholarship? If your student obtains one, or both, it may be the key to lessening the burden of college debt.
To achieve this goal, here are seven steps to put into action now.
Discover more tips at Westface College Planning.
For daily tips and advice follow Westface College Planning on Facebook!
Tips By Trix
Tip #1: Qualified students can use the American Opportunity Tax Credit for the first four years of college.

Tip #2: Students can practice for the SAT for free online with Khan Academy.

Tip #3: Good test scores can increase the amount of merit aid a student is awarded. Sometimes a few points can mean thousands more in scholarships!
Want more helpful tips on how to create a college funding plan? Contact us today for a complimentary consultation!
On-Demand Free Webinar
Enroll in our FREE on-demand webinar and learn how to calculate:
Expected Family Contribution (EFC)
Cost of Attendance (CoA)
FAFSA & CSS profile
Public vs. private costs
How you can afford college without jeopardizing retirement
Enroll for free now! Just click the button below!
Fun College Facts
Harvard University's humor publication, The Harvard Lampoon, was founded in 1876
On average, each college student gets two parking tickets per year
The official mascot of Massachusetts Institute of Technology (MIT) is Tim the Beaver
In College News
These Are The Words Your Teen Applying To College Needs To Hear From You
The first of the big college application deadlines have now passed for high school seniors, and many await their first college admissions decisions coming in mid-December. Others are just beginning their applications and are trying to complete them by January during the chaotic holiday season. When almost every college has a slightly different process, keeping track of the dates, requirements and details makes for an absurd task.
This is it: This is the peak of stress season for those trying to get into college. I am not just a college counselor in a large public high school, but also a parent of a high school senior myself. I see the toll this stress takes in my own house and on the teens who pass through my office, email and text me every day.

Living this experience both professionally and personally this year has crystallized my perspective on the process, and I have something to tell my fellow parents of high school seniors.
Ready for your own success story?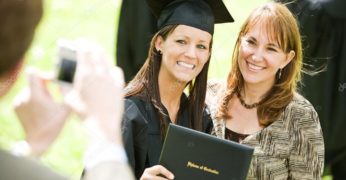 If you're a typical parent with college-bound students, you're probably overwhelmed. You want to help your sons and daughters make the right choices and prevent overpaying for their education. You're not alone! We're here to help. Schedule your free consultation today – click below to get started!
Catch our free, on-demand webinar:
How to Survive Paying for College
Join Beatrice Schultz, CFP® for our on-demand webinar, where she provides parents with the exact steps that often greatly lower the cost of college, even if there's little time to prepare.