Don't Wait! File Your FAFSA and CSS Profile Now!
Fall is here! For parents of high school seniors and college students, that means it is time to get your finances in order and file for financial aid. At Westface College Planning we can help! Did you know we offer services to submit the FAFSA and CSS Profile on your behalf? With years of experience, we know the best strategies for filing and are happy to help develop a realistic funding plan for your child's education.
Are you wondering what the differences are between the FAFSA and CSS Profile? Understanding when and how to complete these financial aid applications is confusing. To help, here are some insights on which colleges require the FAFSA and CSS Profile and how each application treats assets, income and demographic variables.
Are you worried about student loan debt and find yourself asking, "Is college worth it?" The answer is: "Yes, it is!" Studies show that the average college graduate earns almost twice as much as someone with only a high school diploma. To ensure your student gets the best return on their investment, share these tips with them about researching possible majors, careers and projected pay.
Is your high schooler putting together their college list and wondering what to look for and how to choose the best one for them? These five guidelines will help them confidentially choose the right one.
Do you want to know more about applying for financial aid and tactics for making the most of the FAFSA and CSS Profile? Give me a call at 360-818-7728, or sign up for a complimentary college funding consultation or educational webinar today!
I look forward to talking with you soon and enjoy the last days of summer!
– Trixie
---
Tips for Parents
How To Determine "Is College Worth It?"
Your student has successfully navigated high school, toured campuses, and applied to and been accepted into college. All summer, they've dreamt of the momentous day when their new life away from home begins, as well as all the freedom and responsibility that comes along with it.

As a parent, you know they'll learn much more than academics; ensure they have the means to make sound financial choices and share these four financial tips for new college students.

Discover more tips at Westface College Planning.
---
5 Helpful Tips On How To Choose A College
Is your teen putting together their college list? Are they wondering how to narrow down the selection and pick the best one? Figuring out how to choose a college and the multiple factors to consider can be daunting.
On top of that, knowing their decision impacts the next four years of their life and beyond adds a bit of pressure to the process. Here are five of our tips to get your student headed in a worry-free direction.
Read more at Westface College Planning.
---
Tips By Trix
Tip #1: Don't wait to file for the FASFA or CSS Profile, or you might lose out on nonfederal student aid funds and awards.

Tip #2: Not all colleges have merit aid programs, and some require students to apply before a particular deadline. Have your student research deadlines!

Tip #3: Some high schools allow students to earn college credit by taking college-level courses. This is an excellent way to save on the costs of a higher education.
Want more helpful tips on how to create a college funding plan? Contact us today for a complimentary consultation!
---
On-Demand Free Webinar
Expected Family Contribution (EFC)
Cost of Attendance (CoA)
FAFSA & CSS profile
Public vs. private costs
How you can afford college without jeopardizing retirement
Enroll for free now! Just click the button below!
---
Fun College Facts
In 2009, 297 students earned a perfect score on the ACT
During the first year of college, freshmen gain an average of 15 pounds
The University of Virginia was founded and designed by Thomas Jefferson
---
In College News
What Are The Differences Between The FAFSA and CSS Profile? What's The Return On A College Education?
Students submit the Free Application for Federal Student Aid (FAFSA) to apply for college financial aid from the federal government, state government and most colleges and universities. For many colleges and universities, the FAFSA is the only form students need to file. However, some colleges require a supplemental form called the CSS Profile in addition to the FAFSA.
The FAFSA is used to apply for financial aid from more than 6,400 colleges and universities, in addition to the federal and state governments. About 200 mostly private colleges use the CSS Profile for awarding their own financial aid funds. The colleges that require the CSS Profile must still use the FAFSA for awarding government financial aid.
Continue reading this article on Saving for College.
Ready for your own success story?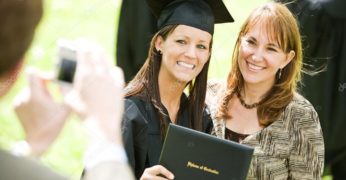 If you're a typical parent with college-bound students, you're probably overwhelmed. You want to help your sons and daughters make the right choices and prevent overpaying for their education. You're not alone! We're here to help. Schedule your free consultation today – click below to get started!
Catch our free, on-demand webinar:
How to Survive Paying for College
Join Beatrice Schultz, CFP® for our on-demand webinar, where she provides parents with the exact steps that often greatly lower the cost of college, even if there's little time to prepare.