5 Helpful Tips On How To Choose A College
Is your teen putting together their college list? Are they wondering how to narrow down the selection and pick the best one? Figuring out how to choose a college and the multiple factors to consider can be daunting.
On top of that, knowing their decision impacts the next four years of their life and beyond adds a bit of pressure to the process. Here are five of our tips to get your student headed in a worry-free direction.
How to Choose a College
1. Evaluate College Characteristics
Begin by having your student review the differences and similarities between each college. Consider things like:
Size of the college
Location (in-state or out-of-state)
Ease or difficulty of getting from campus to home
Variety of housing options (both on-campus and off-campus)
Diversity of the student body
Student life/extracurricular activities
Next, have them probe a little deeper, by asking more specifics about how each point relates to them, like:
Is my learning style better suited to smaller classroom sizes or larger lecture halls?
Do I prefer to be closer to home or is a bus or plane ride okay?
If I decide to live off campus, will it be more affordable than college dorms?
What types of clubs or activities on campus interest me?
As they go through each answer, have them mark or highlight the aspects of each college that appeals to them the most. Although this is a first step when figuring out how to choose a college, their notes on this list will be good to reference when it comes time to make a final decision.
2. Review Academic Departments
Each school's academic departments and course curricula are different, which means looking at the general requirements is just as essential as the courses for majors and minors. If you don't already have a college catalog from a campus tour or college fair, request one be sent to you or download an online version.
As your student reviews this material, they need to ask:
Does the major curriculum cover subjects I want to study?
Outside of the general education requirements, what electives excite me?
Is there a minor I'd like to explore?
Afterwards, have them reach out to the academic departments they are interested in and inquire about internships and experiential learning opportunities. As you think about how to choose a college, remember any hands-on experiences your student acquires during their college years will offer valuable insights into their future career trajectory.
4. Who Is Offering The Best Financial Aid Package?
When figuring out how to choose a college, the cost is one of the most critical factors. With your student, assess the financial aid award packages each college is offering and which is the best return on your investment. Each school has a different format for their award letters, so examine them carefully. If you need help understanding a financial aid award letter, this article offers guidance. If questions arise, don't hesitate to talk with a financial aid advisor as it could save you and your student from an expensive pitfall.
5. Job Placement Programs After Graduation
What could be better than landing a job right after graduation? While not all colleges offer career services, those that support students after graduation with job assistance and the transition from student life to the "real world" ease anxiety and post-graduation stress.
Need Help With College Planning?
At Westface College Planning, we help parents and students figure out how to choose a college that aligns with their college funding plan. If you have questions or need advice on paying for college, contact us today with your questions!
Ready for your own success story?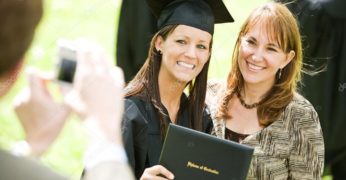 If you're a typical parent with college-bound students, you're probably overwhelmed. You want to help your sons and daughters make the right choices and prevent overpaying for their education. You're not alone! We're here to help. Schedule your free consultation today – click below to get started!
Catch our free, on-demand webinar:
How to Survive Paying for College
Join Beatrice Schultz, CFP® for our on-demand webinar, where she provides parents with the exact steps that often greatly lower the cost of college, even if there's little time to prepare.