Westface College Planning welcomes guest blogger, Lisa Marker-Robbins, the owner/CEO of Learning Enrichment & Assistance Program, LLC (LEAP).
Fall is a common time for college fairs. Juniors and seniors, even sophomores, can connect with dozens of colleges in well fell swoop. However, it's essential to be planned out before the fair to make the most of your time in front of college representatives.
If the fair allows for registration before the event, take advantage of this. It in no way obligates you to anything, but will make your interaction easier. The National Association for College Admission Counseling (NACAC) hosts national fairs in both the fall and spring; they even have fairs for performing and visual arts. Their full calendar of events can be found on their College Fair page. Once you register, you'll see the full listing of which colleges are attending and any supplemental workshops they may offer. There are also likely local or regional fairs you can attend in your area. If you live in a more rural area, there may not be something in your area, so you may have to travel a bit.
For any fair, it's important to be strategic about the few hours you'll have. Assess which colleges are attending and which seem to be a possible fit, so you are only spending time with colleges in which you are interested. For NACAC fairs, and some others with preregistration, you'll be given a bar code you'll want to take with you to the event. This is a huge time saver. You want the colleges to know you stopped by and demonstrated interest (this is vital for some colleges to know). By having a your registration paper with bar code, you can be easily scanned.
In the absence of a bar code, you'll be spending time (a lot of time) filling out interest cards. To save time, I suggest you preprint labels with your name, address, email address, phone, high school and year of high school graduation. These can be easily applied to the college's card then you can check any additional boxes on the card requesting more information.
When you arrive there will most certainly be an opportunity to get a directory of colleges and their location at the fair as well as a bag to put all your goodies in. Plan to collect loads of literature and sort it later at home. Next start interacting!
Take some time to create a list of questions before attending then ask the same questions of each college to help you get a good comparison. You might want to jot notes down as you go then revisit your notes later.
Once home, your job is to sort the literature into different categories such as very interested, schools you are keeping on your radar and honestly some if it will be filed in the trash can – that's okay. Making use of your notes and taking additional notes can be done by journaling or making a spreadsheet. Do it shortly after the event as impressions fade quickly especially as you get in front of new schools.
For the colleges you found of particular interest, follow-up with an email to your regional college rep for their school. This is another way of demonstrating interest and can later possibly tip the scales in your favor as far as admittance. Start following the schools on social media too…..after you clean-up and lock down your own social media. A growing trend in admissions is colleges checking up on you to get a feel if you are the quality student they want on their campus.
Sophomores, it's an easy way to start considering colleges. Juniors, this can launch your official college visit/selection season. Seniors, this is a final effort to demonstrate interest in schools to which you are applying and finalizing that list. There's something for everyone!
Photo Credit: Andy Dean Photography
Ready for your own success story?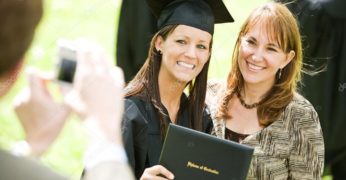 If you're a typical parent with college-bound students, you're probably overwhelmed. You want to help your sons and daughters make the right choices and prevent overpaying for their education. You're not alone! We're here to help. Schedule your free consultation today – click below to get started!
Catch our free, on-demand webinar:
How to Survive Paying for College
Join Beatrice Schultz, CFP® for our on-demand webinar, where she provides parents with the exact steps that often greatly lower the cost of college, even if there's little time to prepare.