7 Tips to Unraveling Financial Award Letters
Award letters are notoriously complex.  They're riddled with finance terms and non-standard abbreviations.  You're left thinking, "So what do I REALLY owe?"
It's with good reason, but the process becomes far less convoluted when you break down the individual pieces.
Master the formula.  As you sift through these award letters, it's important to figure out what financial offer they're willing to give you.
How much money must you pay back and what amount is being handed to you for free?
You're left with the Out-of-Pocket Cost:
Total Cost of Attendance  – Gift Aid (Scholarships + Grants) = Out-of-Pocket Cost
Note: Out-of-Pocket Cost = Net Cost 
Look past the lingo. Despite your letter outlining an alleged "award amount", typically colleges pool that number with a mixture of loans and gift aid.
"Award" and "free" aren't synonymous.  Decipher the details above the total award outlines the loan-derived chunk.  Not all colleges break down cost of attendance and loans transparently.
A notation like "L" or "LN" may follow the award name due to a character limit, and these do equate to the word "loan".
Utilize Online Resources.  Once you compare each college's Out-of-Pocket Cost, it'll give you a strong sense of your financial obligations.
Instead of sifting through award amounts, plenty of online tools do the job for you.
Try this handy comparison tool courtesy of the Consumer Financial Protection Bureau.  Quickly plug-in numbers for a clear visual.
Know what format to expect.  Sample letters online give you the gist of what an award letter generally says, there's no designated outline for them.
When trying to compare one against another, you may be thrown into a loop.
Familiarize yourself with a few standard examples.  For instance,  Financial Aid Sense mocks up an online imitation version which translates well to real-world offers.
Apply, apply, apply!  To ensure eligibility for financial aid (Stafford Loans included), it's required you complete the FAFSA and CSS Profile for qualifying colleges.
While there are multiple factors to consider when choosing your college, it's vital to understand the financial commitment you'll be making to each institution.
Early FAFSA opening, early awards.  2017 marked the early FAFSA application window from October to January, and this 3 month cushion is intended to yield precise award letters.
If you did take advantage of the January timeframe, you may already hold them in your hands, but many are doled out in the beginning of March… Less than a few short weeks away!
In the past, you'd expect a ballpark range of aid extracted from estimated income.  They now send out a solid number from the get-go.  No adjustments or follow-up letter needed.
Keep an eye out in your mailbox (or inbox) to get a head-start!
Become the negotiator.  Private schools in particular can dip deeper into their funds, and if you find a better offer, let them know.  They may reevaluate your offer.  If you're going for a public school, it's less likely their offer will budge, but not impossible.
Westface College Planning can help you compare award letters and navigate the financial aid process from start to finish. To learn how we can help you call us at 650-587-1559 or sign up for one of our Tackling the Runaway Costs of College Workshops or Webinars.
Photo credit: Ines
Ready for your own success story?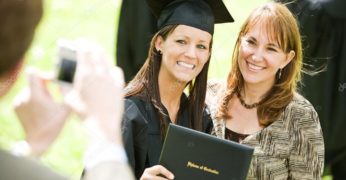 If you're a typical parent with college-bound students, you're probably overwhelmed. You want to help your sons and daughters make the right choices and prevent overpaying for their education. You're not alone! We're here to help. Schedule your free consultation today – click below to get started!
Catch our free, on-demand webinar:
How to Survive Paying for College
Join Beatrice Schultz, CFP® for our on-demand webinar, where she provides parents with the exact steps that often greatly lower the cost of college, even if there's little time to prepare.