USNews: 5 Hints to Compare Financial Aid Award Letters
Last year, USNews posted a fantastic article about factors to consider when making the final college selection. Here's what the article says:
It's crunch time for families in the college selection process. The admissions decisions are in and, with two weeks remaining before the May 1 reply date, students are now turning their attention to the final choice of a college. It's an exciting—and nerve-wracking—time to be sure, especially for families trying to reconcile cost and affordability against limited means.
If you are in that number, there is a strong likelihood you applied for financial aid and are now trying to interpret the financial aid award letters you received from various colleges. Months ago, as you engaged in the grueling task of completing the financial aid applications, it was the promise of the "just reward" that kept you going. Now that the award letters are in hand, you are left wondering, "What does it all mean?"
Last year, a young man shared with me the financial aid award letters he had received from 10 different colleges. Never mind that he had allowed his list of colleges to grow too long—he had been admitted to 10 and had received various forms of financial aid from each of them. With an Expected Family Contribution (per the FAFSA, or Free Application for Federal Student Aid) of $5,000, the award letters were predictably generous. They were also troublingly inconsistent.
For example, two of the schools, at total costs of $39,825 and $51,740, respectively, presumed to cover all of his costs. While the first included modest "self help" (loan and work study) totaling $2,565 in its financial aid offer, the second college issued an award letter in which the "self help" totaled $24,840.
On the surface, it seemed both schools were covering all of his costs, one of them to the tune of $51,740. However, the difference in "out-of-pocket" expense for this family at the two schools would be greater than $20,000—all with the same EFC!
As you compare financial aid award letters, it is important that you get to the bottom line "out-of-pocket" expenses for each. Unfortunately, the award letters don't always spell that out for you. The following are important factors to consider in making sure you are comparing "apples to apples."
Identify the total cost of attendance for each institution: This will include tuition and room and board, as well as books/supplies, activity fees, lab fees, and possible transportation expenses. You may need to consult the school's website for a complete list, as very few award letters provide a complete documentation.
Add all of the grants and scholarships listed on the award letter together: These funds comprise the "gift" aid you are receiving—money you don't have to repay. The sources of these funds may include state and federal governments as well as the institution itself.
Subtract the total amount of "gift" aid from the total cost of attendance: This will help determine the total out-of-pocket expense for your family.
Look for the "self-help" portion: In most cases, institutions will offer a standard "self-help" component to the financial aid award that includes a guaranteed student loan (Stafford) of $3,500 and a campus work-study opportunity worth up to $1,500. Note that the amount of the loan eligibility will increase for each of the following years. Additional loans authorized for the student or the parents (PLUS loans) may be offered in place of "gift" aid.
Keep an eye out for "gapping": It is not uncommon for the total amount of financial aid offered, both "gift" and "self help," to come up short of making up the difference between the Expected Family Contribution and the total cost of attendance. This practice, known as "gapping," is employed by institutions that choose not to meet the full need of the student with financial aid. In such cases, the student is left to his/her own devices to find the remaining funds.
Somewhat curiously, there is little material difference between this practice and that where institutions create the illusion of meeting need by loading up the aid award with student and parent loans.
In the final analysis, you need to be entirely comfortable with your ability to manage the cost of attending a college before you submit an enrollment deposit. If you have concerns, it is best to direct them to the financial aid offices of the colleges in question. Most financial aid offices will entertain appeals when new documentation can be provided.
Photo Credit: Ross Griff
Ready for your own success story?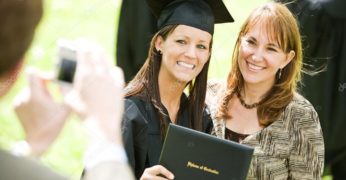 If you're a typical parent with college-bound students, you're probably overwhelmed. You want to help your sons and daughters make the right choices and prevent overpaying for their education. You're not alone! We're here to help. Schedule your free consultation today – click below to get started!
Catch our free, on-demand webinar:
How to Survive Paying for College
Join Beatrice Schultz, CFP® for our on-demand webinar, where she provides parents with the exact steps that often greatly lower the cost of college, even if there's little time to prepare.