USA Today: Most student loans unaffected by upcoming increase in rates
USA Today posted a fantastic article about what you need to know about student loans:
You know an issue has reached critical mass when it's the topic of late-night comedian Jimmy Fallon's "Slow Jam the News" segment, and none other than President Obama shows up to help.
The subject of the slow jam? On July 1, the interest rate for some new federal student loans is scheduled to increase to 6.8% from 3.4%. President Obama wants to extend the lower rate for another year. Republicans in Congress say they support the extension, but disagree with the president's plan to pay for it.
Many graduates are struggling with unaffordable loan payments, so any suggestion that loans will become more expensive is worrisome to a lot of college students. But a lot of information that has been circulated about the pending rate increase is misleading, if not downright wrong, says Kalman Chany, author of Paying for College Without Going Broke. If you have student loans, or plan to borrow, here's what you need to know:
• The increase would only affect interest rates for subsidized Stafford loans for undergrad students issued after July 1, 2012. Interest rates for existing loans won't change.
About a third of undergraduate students have subsidized Stafford loans, which are awarded based on economic need. The College Cost Reduction and Access Act of 2007 gradually reduced the rates for subsidized loans for undergraduate students from 6.8% to 3.4% through 2012-13.
The rates are fixed for the life of the loan. For example, the rate for subsidized Stafford loans issued for academic year 2010-11 is 4.5%. That rate won't change on July 1, no matter what happens in Congress.
An interest-rate rate increase for subsidized Stafford loans would affect more than 7 million undergraduate students, according to the Department of Education. The administration estimates that doubling loan rates would increase their interest costs by more than $5,000 over the life of the loan.
That estimate is based on a borrower with $23,000 in subsidized Stafford loans, the maximum allowed for undergraduate dependent students. A borrower with an $11,329 loan would pay an extra $2,265 in interest, or about $22 a month, based on a 10-year repayment term, according to FinAid.org.
• Rates for unsubsidized Stafford loans won't change. The College Cost Reduction and Access Act didn't affect rates for unsubsidized Stafford loans, which are available to all full-time college students, regardless of financial need. Unsubsidized Stafford loans issued since July 1, 2006, have a fixed rate of 6.8%. Likewise, rates for subsidized loans for graduate and professional students will remain at 6.8%.
• Even if rates rise on July 1, subsidized Stafford loans are generally less costly than private student loans.
Some private lenders are advertising student loan rates as low as 3%, which makes them look like an attractive alternative to Stafford loans with a 6.8% rate. But private loan rates are usually variable, which means they could shoot higher if overall rates rise. And to get the lowest rates, most borrowers will need a co-signer, which puts that individual — usually a parent — on the hook for payments if the borrower falls behind.
If you qualify for a subsidized Stafford loan, the government will pay the interest on the loan while you're in school, Chany says. Interest on private student loans and unsubsidized Stafford loans accrues while you're in school. If you don't make interest payments — and some private lenders require that you do — the interest is capitalized and added to your loan balance.
In addition, both subsidized and unsubsidized federal student loans offer repayment options that typically aren't available to borrowers with private loans. If you lose your job, for example, you automatically qualify for deferral of loan payments for up to three years.
Borrowers who can't afford their monthly payments may be eligible for the income-based repayment program, which reduces payments based on discretionary income. After 25 years of qualifying payments, the balance of the loan will be forgiven. The federal government also offers loan forgiveness programs for borrowers who pursue careers in public service.
Some private lenders provide forbearance or interest-only payments for borrowers who are experiencing hard times, but that's voluntary.
Photo Credit: stevendepolo
Ready for your own success story?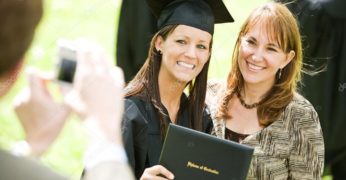 If you're a typical parent with college-bound students, you're probably overwhelmed. You want to help your sons and daughters make the right choices and prevent overpaying for their education. You're not alone! We're here to help. Schedule your free consultation today – click below to get started!
Catch our free, on-demand webinar:
How to Survive Paying for College
Join Beatrice Schultz, CFP® for our on-demand webinar, where she provides parents with the exact steps that often greatly lower the cost of college, even if there's little time to prepare.