The Gravity of the CSS Profile: Why You Should Apply
Seniors: Get ready to complete the CSS Profile!
While not as commonly used as the FAFSA, for those colleges that do use it, completing the CSS Profile boosts your qualification for more financial aid, and who doesn't want some extra money toward their college fund?
You may not realize it, but the CSS Profile is required by over 300 colleges.  It is very likely that one or more colleges in your personal top 10 list will need of the CSS Profile as well as the FAFSA in order to be considered for all available financial aid.
Be prepared: Colleges that request the CSS Profile include those from one end of the spectrum to the other, from the well-known (Santa Clara University), lesser known (Whitmore College), large (Boston University), to small (Pomona) private colleges; even a few public colleges (University of Michigan) opt for the CSS Profile.
How is the CSS Profile Different than the FAFSA?
1)    Unlike the FAFSA which is spearheaded by the federal government, the CSS Profileis administered by the College Board.
2)    While the FAFSA is FREE, the CSS Profile requires a cost for submission ($25 for the first college and $16 for each additional college).
3)    The CSS Profile is now available online for fall 2015 admission.  Some colleges have deadlines as early as November 1, 2014 for Early Action and Early Decision applications.  The FAFSA only becomes available on January 1, 2015.
4)    Every college requires your submission of the FAFSA for consideration of any government financial aid.  Colleges that ask for the CSS Profile require it to determine your eligibility for various non-government avenues of financial aid.
5)    Are you part of a two household family?  The FAFSA only asks for financial and household information for the custodial parent household.  The CSS Profile also inquires about financial and household information for the custodial parent household. In addition, many colleges request that the Noncustodial Profile be separately completed by the noncustodial parent.  For those colleges, an Expected Family Contribution will be calculated for both households.
6)    Colleges that call for the CSS Profile also will likely request copies of tax returns, W2s, plus supplemental forms for every business and farm.  Make sure you know the requirements for every college.  It's important!.
Is it worth the time and effort to complete the CSS Profile and send in all your financial information?
YES!  Many students who do not qualify for government need based aid do qualify for college-specific financial aid.  You may be one of them!  These institutional funds lie dormant awaiting claim for many students who have income and assets that are too high to qualify for government funds.
Remember, you have to apply to even be considered.  To illustrate, here is a statement on Santa Clara University's website: "To be considered for the full range of SCU-awarded scholarships and grants, applicants are required to complete a secondary application, the College Scholarship Service/Financial Aid PROFILE."
Check the financial aid web page for EVERY college on your list.  Discover which explicitly require the CSS Profile and Non-Custodial CSS Profile in addition to the FAFSA.  Confirm the related deadlines and submit the application before the cut-off date.
Applying for both the FAFSA and CSS Profile (where requested) guarantees your maximum potential amount of gift aid for college funding from sources other than a student loans!
Westface College Planning helps navigate the financial aid process from start to finish.  To learn how we can minimize college cost, call us at 650-587-1559 or sign up for one of our Tackling the Runaway Costs of College Workshops or Webinars.
Photo Credit: Johnson Cameraface
Ready for your own success story?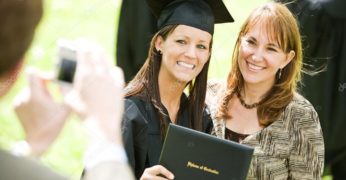 If you're a typical parent with college-bound students, you're probably overwhelmed. You want to help your sons and daughters make the right choices and prevent overpaying for their education. You're not alone! We're here to help. Schedule your free consultation today – click below to get started!
Catch our free, on-demand webinar:
How to Survive Paying for College
Join Beatrice Schultz, CFP® for our on-demand webinar, where she provides parents with the exact steps that often greatly lower the cost of college, even if there's little time to prepare.