The Basics of the Federal Student Loan Debt Relief Plan  
The U.S. Department of Education announced the Federal Student Loan Debt Relief Plan on August 24, 2022. The debt relief plan has three main parts to it and many details, so here are the basics to help clarify the process.
The Last Extension of the Student Loan Repayment Pause
The final extension of the student loan repayment pause is included in the Federal Student Loan Debt Relief Plan, and now goes through December 31, 2022. Borrowers will resume payments in January 2023.
Easing into Repayment with Debt Relief
To help with the transition back into repayment, the U.S. Department of Education is providing one-time federal student loan debt relief to eligible borrowers. Almost all federal student loans qualify for forgiveness, which includes Direct Subsidized Loans, Direct Unsubsidized Loans, and Direct Plus Loans for graduate students or parents.
Borrowers are eligible if their individual income is less than $125,000 or $250,000 for married couples or heads of households, in either the 2020 or 2021 tax year.
Pell Grant recipients with loans held by the Department of Education can receive up to $20,000 in debt relief.
Non-Pell Grant recipients can receive up to $10,000 in debt relief.
Debt relief only applies to students and parents whose loan balances were incurred before June 30, 2022.
If loans were disbursed on or after July 1, 2022, they will not be eligible for debt relief.
Those with private student loans are also ineligible for forgiveness.
Most Federal Family Education Loans (FFEL) and Federal Perkins Loans, that aren't held by the federal government, are not eligible for forgiveness. Borrowers with this type of debt who applied for a direct consolidation loan prior to Sept. 29, 2022, should be eligible, but all other borrowers in this category will not be eligible for forgiveness.
Applying for Debt Relief
The student loan debt relief application is now available. Even though a court order has temporarily blocked the government from processing debt discharges, you are still encouraged to apply. When the court ordered pause is over, close to 8 million federal borrowers will receive relief automatically, as the Department of Education may already have their income information on file. All other eligible borrowers will need to submit an application.
Borrowers are encouraged to apply before November 15, 2022, this way you can receive relief before the payment pause expires on December 31, 2022.
Applications will be processed as they are received.
The Department of Education will figure out your eligibility and contact you if more information is needed.
Your loan servicer will inform you when your debt relief has been processed.
If you made voluntary payments to student loans during the payment pause from March 13, 2020, through Dec. 31, 2022, you could still receive debt relief. You will need to request a refund of past payments from your student loan servicer. Then, your loan amount from before the loan repayment pause started would be eligible for the cancellation plan.
Proposed Changes to the Student Loan System   
The U.S. Department of Education has offered borrowers income-driven repayment plans prior to now, but the current administration is proposing a rule to create a new income-driven repayment plan that will reduce the monthly payments for lower- and middle-income borrowers.
The new rule would require borrowers to pay no more than 5% of their discretionary income monthly on undergraduate loans.
The rule would also raise the amount of income that is considered non-discretionary.
Loan balances would be forgiven after 10 years of payments for borrowers with loan balances of $12,000 or less.
The borrower's unpaid monthly interest would be covered, and the loan balance would not grow, just as long as they are making their monthly payments.
If you would like more information about loan forgiveness or entering repayment, please sign up for a complimentary consultation or sign up to watch our on-demand webinar.
Ready for your own success story?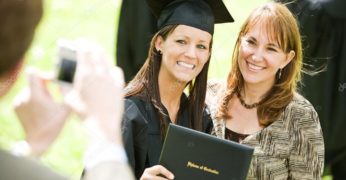 If you're a typical parent with college-bound students, you're probably overwhelmed. You want to help your sons and daughters make the right choices and prevent overpaying for their education. You're not alone! We're here to help. Schedule your free consultation today – click below to get started!
Catch our free, on-demand webinar:
How to Survive Paying for College
Join Beatrice Schultz, CFP® for our on-demand webinar, where she provides parents with the exact steps that often greatly lower the cost of college, even if there's little time to prepare.