Student Debt & The American Dream
Everyone recognizes that having a strong education is one way to move up in the world, but as college degrees become increasingly essential to making one's way in the 21st-century economy, education for the poorest Americans is becoming increasingly unaffordable. The average senior graduates with a loan exceeding $26,000; that's a 40% increase in just seven years. According to the Federal Reserve Bank of New York, almost 13% of student loan borrowers of all ages owe more than $50,000, and nearly 4% owe more than $100,000. These debts are beyond most students' ability to repay, especially in an economy where the unemployment rate is at 7.6%.
So is the traditional American Dream gone?
Some experts say not yet, but if things persist the way they are now, the combination of long-term unemployment, vanishing entry-level jobs with health insurance benefits and the unprecedented levels of student debt will crush the traditional American Dream for many young people who aspire to a middle class lifestyle. Last year, student debt in the U.S. surpassed $1 trillion and, for the first time, exceeded the total amount of credit card debt.
At the same time, 17% of student loan borrowers were 90 days or more behind in payments at the end of 2012. And in 2011, the Department of Education said that 8.8% of borrowers had defaulted in their first two years of repayment, up from 7% the previous year. Those with huge debts and students graduating from college are likely to be cautious before taking on the additional burdens of a family. A study done by Rutgers University showed that 40% of recent graduates delayed making a major home purchase, and for a quarter of those graduates, the high level of debt had an effect on household formation or getting further education.
Many young people say they feel their college loans are like an albatross around their necks. But some of these problems are self-inflicted. Many college students and their families sign on for bigger loans than they can handle, or sign on for loans they didn't fully understand when they took them on. It is important for students and their families to read the fine print and understand what their interest rates are. Also, interest rates aren't the only issue. Many times students don't understand what the consequences are if they should go into arrears.
All these issues are making people call for change and President Obama is hoping to do that with a new proposal that would authorize changes in federal policy to make federal student loans easier to repay. If approved, more than 1.2 million borrowers are projected to qualify and take part in the expanded Income-Based Repayment plan. The proposal is currently being discussed.
Meanwhile, if no action is taken, many believe the gap between the rich and the poor will continue to widen.
How do you feel about this issue? Do you think the American Dream is being crushed by student debt?
Westface College Planning can help you build a college funding plan and navigate the college planning process from start to finish. To learn how we can help you call us at 650-587-1559 or sign up for one of our Tackling the Runaway Costs of College Workshops or Webinars.
Photo Credit: SMBCollege
Ready for your own success story?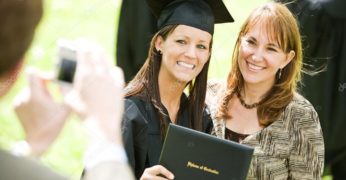 If you're a typical parent with college-bound students, you're probably overwhelmed. You want to help your sons and daughters make the right choices and prevent overpaying for their education. You're not alone! We're here to help. Schedule your free consultation today – click below to get started!
Catch our free, on-demand webinar:
How to Survive Paying for College
Join Beatrice Schultz, CFP® for our on-demand webinar, where she provides parents with the exact steps that often greatly lower the cost of college, even if there's little time to prepare.