Secrets for Cutting the Cost of College
If you are thinking about returning to school the issue of finances has likely come up. You'll hear a lot about affordability and the cost of school interchanged, but affordability is different than cost. Think of it this way: cost is just the baseline; affordability can be considered how you're going to manage that cost. In order to best figure the true cost, you must get a clear picture of all the expenses, and look for ways to reduce them when possible.
Take a look at the following seven factors when conducting your research:
1. Cost per credit hour based on the academic calendar. Don't just pay attention to the cost per credit hour – this can be different due to variations in academic calendars, leading to extra fees and valuable time spent. There are two factors to consider here. What is the baseline cost per credits and how are credits figured? Make sure you look at all the factors involved when you determine affordability.
2. Length of program. How long will it take you to complete your degree? Are you starting brand new, do you have some credits? What is the pace of the program? When you know how many credits you need, that can help you figure cost based on how many credits are included in tuition, or if you are paying per class.
3. Transfer credits. If you have previously earned credits how will they transfer in? Are you able to save time and money if you get credit towards graduation for previous coursework? When credits don't transfer, you could be spending more to retake classes.
4. Books and supplies. For first time students the average cost of books and supplies was more than $1000, according to The National Center for Educations Statistics. Books can get expensive, but are required. Take advantage of shopping strategically to try to land used books, renting textbooks or selling back books when possible, and research how other savings opportunities can be found. Does your school offer text book grants or scholarships to alleviate the burden of this expense?
5. Fees. Get a comprehensive list of all fees that you are required to pay as a student. Are there student fees, semester fees, lab fees, parking fees, etc.? Determine how fees are figured in. Are they included in tuition, are they separate, how often do you pay them?
6. Housing and transportation. Once you have figured out the cost of credits and fees to complete your program, explore this sometimes costly expense. Will you be living on campus? How much will you be spending commuting to campus? What is the value in the convenience of being on campus? Is online an option for you?
7. Other ways to earn credits. Can you test out of classes to earn credits? For example if you can take a CLEP or DSST test in place of a class you could save money on the cost per credit hour as well as the cost of books. According to collegeboard.org, CLEP tests are accepted by over 2,900 colleges and Universities, so explore if the school you are considering accepts them, and work with an advisor to see how they would fit your needs. Also ask how corporate and military training can count towards your degree plan.
College can be expensive, but planning and research can ease the burden without sacrificing the integrity of earning a respectable, accredited degree. Utilizing previous credits, and finding a school that works on your timeline to help you make the most of your funds can reduce costs and make college more affordable.
This post was originally published on our College Smart Radio website and was provided by Dr. Mary Hawkins, President of Bellevue University.  Dr. Hawkins was a guest on College Smart Radio "Tackling the Runaway Costs of College" on April 12th, 2014.
Westface College Planning can help navigate the financial aid process from start to finish.  To learn how we can help you call us at 650-587-1559 or sign up for one of our Tackling the Runaway Costs of College Workshops or Webinars.
Photo Credit: coolio-claire
Ready for your own success story?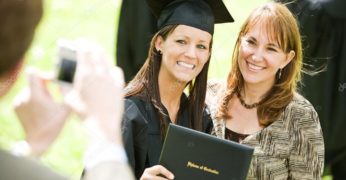 If you're a typical parent with college-bound students, you're probably overwhelmed. You want to help your sons and daughters make the right choices and prevent overpaying for their education. You're not alone! We're here to help. Schedule your free consultation today – click below to get started!
Catch our free, on-demand webinar:
How to Survive Paying for College
Join Beatrice Schultz, CFP® for our on-demand webinar, where she provides parents with the exact steps that often greatly lower the cost of college, even if there's little time to prepare.