Score Big and Get Financial Aid For Athletes
Your student participates in high school sports and has become a promising athlete. With college on the horizon, you might be asking yourself two questions. First, can their skills at sports tie into their future at college? And if so, are there steps you can take to secure financial aid for athletes or land an athletic scholarship? If your student obtains one, or both, it may be the key to lessening the burden of college debt.
To achieve this goal, here are seven steps to put into action now.
1. Start Planning In 9th Grade For College Sports
The National Collegiate Athletic Association's (NCAA) eligibility rules begin in the 9th grade, which means students should start considering the possibility of an athletic scholarship during the first year of high school, if not before. Parents and students both need to become very familiar with the NCAA's eligibility center, including their list of NCAA-approved high school courses, and sign up for a free profile page. If teen athletes follow their requirements for each grade, they'll stay eligible throughout their high school career.
If your student has a dream to play sports in college, consider meeting with a college athletics consultant like Advocates for Athletes (A4A) early in high school. Their business provides one-on-one consultations that help educate and guide student athletes and their families as they pursue admission to a school of their choice based on their sport.
2. Be Realistic About Athletic Scholarships
According to U.S. News & World Report, around two percent of teen athletes receive full or partial athletic scholarships. Although the competition at a Division II institution might appear easier, NCAA rules set the number of scholarships even lower than Division I schools. Some sports offer better chances than others, too. What college sport is most likely to have the best chance of landing an athletic scholarship? Women rowers.
Athletic-only scholarships generally aren't as generous as other awards students might be able to get from other schools and, when considering colleges, it is essential to search for those that might provide additional financial assistance. If there is an opportunity to combine an academic and athletic scholarship, review the NCAA rules.
3. Contact College Coaches
If coaches haven't noticed an athlete's accomplishments, your student needs to be proactive and take matters into their own hands. Once potential colleges are identified, your student should reach out to the school's coaches via email or phone and arrange to visit the campus. They should also create an online profile to show off athletic abilities with video clips, coach recommendations and upcoming tournament appearances. Keep in mind that parents and teens can introduce themselves to coaches as early as 8th and 9th grade, but coaches have rules for when they can contact potential recruits.
4. Create A College Road Map
To stay on track for getting financial aid for athletes, students need to regularly check in with their guidance counselor to ensure they are on the best academic path. They should also have a frank discussion with their coach about the division they can realistically obtain. Knowing their level and potential will help them create a game plan for training and goal setting as well as narrow down the list of college choices.
Another important person to talk with is a College Funding Advisor. At Westface College Planning, we can help your family navigate the college selection process to best qualify for athletic scholarships and other financial aid for athletes, as well as set expectations on how to pay for college.
5. Understand How To Get Financial Aid For Athletes
Even if a teen athlete isn't the best player on the team, in the league or in the state, he or she still has a chance to play sports in college – just not at a Pac-12 or Big 10 school. Another option to consider is Division III schools. They can't award athletic scholarships, but many colleges offer need-based financial aid and merit-based money to students that happen to be good athletes as well.
6. Focus On Grades
While students – and their parents – may dream of becoming the next athletic superstar, it is essential to remain grounded, which means focusing on achieving good grades and test scores. Students who have both impressively high marks and excel at their sport are valuable to coaches, and mastering both will give them the best advantage during the recruiting process.
7. Don't Give Up!
If your student doesn't get an athletic scholarship their first year, they might have a shot at one for the following year. Athletes need to re-qualify for athletic scholarships each year as well as file the FAFSA and CSS Profile (if applicable for their college) early to be the first in line for merit aid and awards.
Need Help Navigating Your College Funding Plan?
At Westface College Planning, we help parents and students figure out how to pay for college and build a winning strategy for your athlete. Contact us today with your questions!
Ready for your own success story?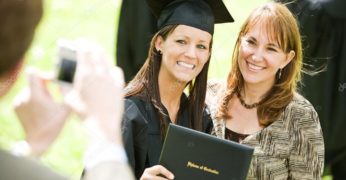 If you're a typical parent with college-bound students, you're probably overwhelmed. You want to help your sons and daughters make the right choices and prevent overpaying for their education. You're not alone! We're here to help. Schedule your free consultation today – click below to get started!
Catch our free, on-demand webinar:
How to Survive Paying for College
Join Beatrice Schultz, CFP® for our on-demand webinar, where she provides parents with the exact steps that often greatly lower the cost of college, even if there's little time to prepare.