Quick Tips for Note-Taking
While the idea of jotting down countless lines of notes during lectures may cause high school and even college students to cringe, it's vital in their scholastic success. We need to be fair, though; it's not the easiest nor the most exciting task, and sifting through the torrents of facts thrown at them can cause them to feel lost, understandably so.
In light of this, here are a handful of easily applicable ways to exponentially raise not only note-taking success, but review of the material:
Designate one notebook (or binder section) solely for notes.
Avoid typing out your notes on a laptop or tablet. It may be a quicker solution to whip out your laptop, but it poses a risk of distraction. More importantly, the slower process of writing by hand leads to a higher rate of memory retention and focusing on key points. An overwhelming number of articles point to a much greater success of laptop versus hand-written notes.
Don't feel the need to write down everything. Every word your teacher utters isn't solid gold test material. In fact, attempting to scrawl out word-for-word will not only confuse you during your review, but also will likely decrease the quality of your penmanship, not to mention cramp your hand.
Record the lecture using your phone. Don't forget to request permission to do so!
Ask for a digital copy of your teacher's notes/PowerPoint.
Re-write your notes. This will improve clarity, memory and neatness.
Highlight key words and ideas following the lecture as a review. Those who fail to review after 9 hours lose 60% of the information gained.
Don't over-review. If you're cramming for a lengthy test, you may continually force yourself to retain the information for hours, which will more or less fry your brain. Intervals of fifteen minute to half hour breaks per hour will refresh your mind. Even better, study a few minutes before bedtime and in the morning. They're prime times for your brain to solidify new memories.
Westface College Planning can help navigate the financial aid process from start to finish.  To learn how we can help you call us at 650-587-1559 or sign up for one of our Tackling the Runaway Costs of College Workshops or Webinars.
Photo Credit: David Morris
Ready for your own success story?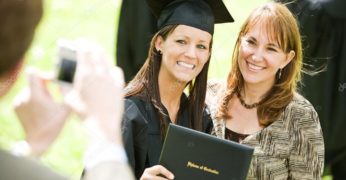 If you're a typical parent with college-bound students, you're probably overwhelmed. You want to help your sons and daughters make the right choices and prevent overpaying for their education. You're not alone! We're here to help. Schedule your free consultation today – click below to get started!
Catch our free, on-demand webinar:
How to Survive Paying for College
Join Beatrice Schultz, CFP® for our on-demand webinar, where she provides parents with the exact steps that often greatly lower the cost of college, even if there's little time to prepare.