Private Colleges Call for More Need-Based Aid, Less On Merit Aid
In a statement released to the media in early January, a group of private college leaders called on other schools to renew their commitment to need-based financial aid. According to The Chronicle of Higher Education, the document calls for doing away with the use of the phrase "merit aid" completely, saying that need-based aid will go further in helping schools attract talented students who come from low-income families. But what is merit aid and need-based aid?
Merit aid is financial aid awarded to students based on academic, artistic or athletic achievement. It's money for college awarded without regard for financial need. States, colleges and universities, private groups or individuals usually award this type of aid and scholarships. It's generally intended to supplement need-based aid or help cover the expected family contribution if the money isn't on hand. Some examples of merit-based financial aid include college scholarships, awards and tuition waivers.
Need-based college aid is awarded based on a family's financial need. The Department of Education and the colleges and universities determine the student's need by subtracting the expected family contribution (EFC) from the cost of attendance (COA) at each college or university. All federal aid is need-based. Some need-based aid consists of education grants that don't need to be repaid, while others are college loans that need to be repaid with interest. Federal loans are the largest form of financial aid and they will likely be a large part of a student's college award letters. In order to be eligible for any need-based aid students must submit a FAFSA form. Some schools also require an additional form, such as the CSS Financial Aid Profile form or a specific form created by the school. Some examples of need-based financial aid include state grants, Federal Pell Grants and Federal Work-Study Programs.
So why are private colleges calling for less merit aid and more need-based aid? The move comes via a draft pledge unveiled at the Council of Independent Colleges' annual President's Institution. According to analysis by Daniel Luzer of the Washington Monthly, merit aid has become one of the tools available to smaller private schools to attract candidates who might otherwise enroll in more selective colleges. However, this practice has brought about an unintended side effect – higher cost of college tuition and financial dealings that seem to conceal the true cost of college.
A U.S. Department of Education statistics report in 2008 showed that merit-based aid at private non-profit institutions rose from $1.6 billion in the 1996 fiscal year to $4.6 billion in 2004.  At the same time college presidents worry that a commitment to increasing need-based aid, and not competing for top students by awarding merit-based aid, will lead to decreased enrollment and decreased prestige for their institutions.
In remarks at the Council of Independent Colleges' annual President's Institution, the president of Kenyon College, S. Georgia Nugent, acknowledged the theory that discounting tuition for more affluent students raises enrollment and tuition income, ultimately contributing to aid for lower income students. But she countered that in terms of financial viability and educational mission, "the Robin Hood system is not working well for us."
What do you think about this issue? Do you feel merit aid should be done away with all together? Let us know your thoughts.
Westface College Planning can help you navigate the college planning process from start to finish. To learn how we can help you call us at 650-587-1559 or sign up for one of our Tackling the Runaway Costs of College Workshops or Webinars.
Photo Credit: AMagill
Ready for your own success story?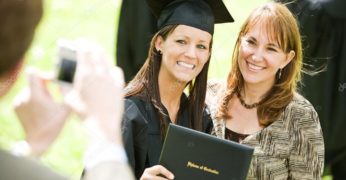 If you're a typical parent with college-bound students, you're probably overwhelmed. You want to help your sons and daughters make the right choices and prevent overpaying for their education. You're not alone! We're here to help. Schedule your free consultation today – click below to get started!
Catch our free, on-demand webinar:
How to Survive Paying for College
Join Beatrice Schultz, CFP® for our on-demand webinar, where she provides parents with the exact steps that often greatly lower the cost of college, even if there's little time to prepare.