President's Scholar Program
As acceptance letters start rolling in, it can be difficult to choose once college over another. One way to help you decide between colleges is to consider going to a one that offers a program like the one offered by Lehigh University.
The President's Scholar Program recognizes undergraduate college students' outstanding academic outstanding achievement by providing a fifth year (i.e. a 9th & 10th semester) of study free tuition. The President's Scholar Program benefit is intended to give students an opportunity to pursue a second undergraduate degree, a graduate degree or undertake an advanced project of a scholarly or creative nature, such as a thesis, a portfolio of artwork or a laboratory research project, that does not lead to a degree.
Here are the general provisions for the President's Scholar Program:
The scholarship covers tuition only.
Students must demonstrate eligibility for the second undergraduate degree, have an acceptance to a graduate degree program or develop an agreement with a faculty mentor to supervise an advanced project as part of their application of the scholarship.
The year of free tuition includes one summer and two regular academic year terms. It begins in the term immediately following the term that the student completes requirements for the first undergraduate degree. For example, if a student graduates in May, the year of free tuition includes the summer, fall and spring terms immediately following graduation. No portion of the scholarship may be deferred.
Study abroad programs are not included.
Distance Education courses are not included.
Students must be continuously enrolled at the school to be eligible for the President's Scholarship. Exceptions are allowed for up to a one-year leave of absence. Approved study abroad counts as continuous enrollment.
None of the criteria for eligibility and selection are subject to petition.
Many college offer President's Scholars Programs like this one, so it's worth doing a little research and looking into what types of programs a college has to offer. It can help you make a decision to what college you should or want to attend.
Westface College Planning can help you navigate the college planning process from start to finish. To learn how we can help you call us at 650-587-1559 or sign up for one of our Tackling the Runaway Costs of College Workshops or Webinars.
Photo Credit: jjorogen
Ready for your own success story?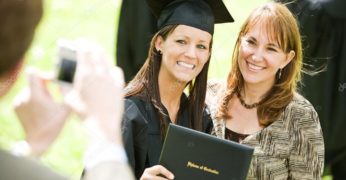 If you're a typical parent with college-bound students, you're probably overwhelmed. You want to help your sons and daughters make the right choices and prevent overpaying for their education. You're not alone! We're here to help. Schedule your free consultation today – click below to get started!
Catch our free, on-demand webinar:
How to Survive Paying for College
Join Beatrice Schultz, CFP® for our on-demand webinar, where she provides parents with the exact steps that often greatly lower the cost of college, even if there's little time to prepare.