PAYE Program: Initiative to Extend Eligibility
It's no secret that one of the biggest downfalls for students manifests itself via loan debt, which causes a litany of other issues that affect them far past their graduation date. Recently Obama's initiative to extend the Pay As You Earn (PAYE) program, intended to alleviate some of the student loan burden, has earned a great deal of attention, including both praise and rightfully constructive criticism.
What Is PAYE?
Currently, the PAYE program prompts borrowers to dedicate around 10-15% of their monthly income toward their loans. As a result of consistent payments, any leftover debt is typically granted forgiveness in 20 years, or 10 years for government employees and a portion of those working for nonprofit organizations. However, it restricts this option to borrowers that "received a disbursement of a Direct Loan" throughout the dates of October 1st 2007 to October 1st 2011.
Below are the eligible and ineligible federal loans, according to StudentLoanHelp.org:
Eligible Federal Loans
Direct Subsidized Stafford Loans (Direct Loan Program)
Direct Unsubsidized Stafford Loans (Direct Loan Program)
Direct PLUS Loans made to graduate or professional students
Direct Consolidation Loans without underlying PLUS loans made to parents
Loans that are NOT Eligible
Direct PLUS Loans made to parents
Direct Consolidation Loans that repaid PLUS loans (Direct or FFEL) made to parents
FFEL Program loans
Private education loans
To accommodate a much wider range of student loan borrowers, in December 2015 the program will extend to those who borrowed between October 2007 and 2011. It's estimated that this will reach 5 million people previously unable to take advantage of PAYE.
One major disadvantage lies in the time-frame. Sure, the borrower will be responsible for a reduced monthly payment, but also expected to do so for 20 years—literally almost double their lifetime, for many students and graduates.
Additionally, the program tailors to those who took out loans equivalent to hundreds of thousands of dollars. That's a huge chunk of debt and way more than most are willing to undertake. Unfortunately, it only encompasses about 3.7% of all borrowers.
Calculate & Consider Alternatives
So what's your best move? Take some time to look over the informational chart of repayment programs, courtesy of the Federal Student Aid website. Once you get a better idea of your options, enter your information into their repayment calculator, which will give you a side-by-side comparison of your expected time period, monthly payments, possible amount of loan forgiveness, interest paid and total amount paid for each type of plan.
Even if the PAYE might not be the right fit for you or you still may not qualify, know that more choices are available to ease the financial weight of student loan debt.
Westface College Planning helps navigate the financial aid process from start to finish.  To learn how we can minimize college cost, call us at 650-587-1559 or sign up for one of our Tackling the Runaway Costs of College Workshops or Webinars.
Photo credit: PlanetofSuccess.com / PhotoSteve101
Ready for your own success story?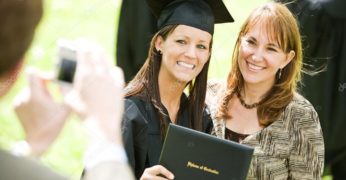 If you're a typical parent with college-bound students, you're probably overwhelmed. You want to help your sons and daughters make the right choices and prevent overpaying for their education. You're not alone! We're here to help. Schedule your free consultation today – click below to get started!
Catch our free, on-demand webinar:
How to Survive Paying for College
Join Beatrice Schultz, CFP® for our on-demand webinar, where she provides parents with the exact steps that often greatly lower the cost of college, even if there's little time to prepare.