Opening the College Dialogue Channel: Ask Questions!
As seniors sweat out the weeks before acceptance letters arrive in the mailbox (or in many cases, e-mail), parents can turn their attention to younger, future college-bound children who will one day walk down the same path.
Begin planting fundamental seeds that will promote a highly successful end result for their college career.  This can be accomplished through many methods, but an effective and easy way derives from a tool often overlooked when lost amidst the hectic flurry of college financing: communication.
It All Begins With…
You don't need to go through leaps and bounds to get their cognitive juices flowing about college.  Simply ask questions to stir up their thoughts, eventually pointing their college compass in a direction for which they are 100% comfortable.  Try not to overwhelm them with a barrage of questions, but throw one or two of these into a casual conversation:
"What hobbies could you see yourself doing as a career?"
"What are your true passions?"
"Thinking about the idea of college, what about it do you like?"
"What would be the most important qualities of college: academics, sports, clubs, or anything else?"
"Would you rather go to a large university? Small?  City or country-side?"
And Don't Stop There!
Soak in their answers and continue pursuing the conversation deeper, if they show any interest.  Only feel compelled to submit your own input if they specifically ask for it.  While you definitely will support them throughout, the decision lies in their hands.  Otherwise, with a continual pursuit of injecting your own judgments, they may sense that you're running your own agenda, rather than listening to their preferences.
Let's picture a scenario.  Kim wants to lead her freshman daughter, Chelsea, in the right direction for college.  Kim proposes, "Are there any colleges that you'd like to know more about?"  Chelsea is open to possibilities, yet unsure.  Kim then follows with the statement, "Well, I think Princeton would be perfect.  Your grandfather went there."  That comment alone may force Chelsea to feel obligated to attend Princeton based on legacy rather than a personal vested interest.
That's not to say you should never voice your opinion.  We encourage you to lend advice and act as a guide, from college choice to working out financial details.  Even one question directing their mindset to college could open a floodgate of curiosity, passion, and eventually, determination to land a place in higher education.
Westface College Planning can help navigate the financial aid process from start to finish.  To learn how we can help you call us at (650) 587-1559 or sign up for one of our Tackling the Runaway Costs of College Workshops or Webinars.
Photo Credit: Marc Wathieu
Ready for your own success story?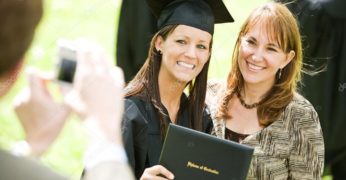 If you're a typical parent with college-bound students, you're probably overwhelmed. You want to help your sons and daughters make the right choices and prevent overpaying for their education. You're not alone! We're here to help. Schedule your free consultation today – click below to get started!
Catch our free, on-demand webinar:
How to Survive Paying for College
Join Beatrice Schultz, CFP® for our on-demand webinar, where she provides parents with the exact steps that often greatly lower the cost of college, even if there's little time to prepare.