Not All College Tuitions are Created Equal
When it comes to state-by-state college tuition fees, the ranges between the highest and lowest colleges are staggering.
In fact, the difference boils down to thousands upon thousands of dollars.  You may wonder if a high price ticket equals an overall better institution.
That should ring true for most investments.  The more money you shell out, the higher benefit you'll receive.  You purchase a $10,000 couch set and reap the luxuries: exotic fabric, high cushion density, and so forth, while the $2,000 set has an itchy exterior and starts wearing within a couple of months.
This isn't the case for in-state college fees.  Out of the best-ranked schools in U.S. News & World Report's list, the states containing the most expensive tuition only filled out four slots in the top 20.
According to USA Today, these states harbor the highest-ticket colleges, charging the highest tuitions and related fees:
3. Pennsylvania
$12,802
2. Vermont
$13,958
1. New Hampshire
$14,655
Along with these astronomical feels, financial aid debt is sure to follow.  About 72% of graduating students in New Hampshire enter the workforce carrying the burden of $32,698 in student loan debt.  In that respect, Pennsylvania isn't too far behind.
On the other end of the spectrum, they list these as the least expensive:
3. Utah
$5,906
2. Alaska
$5,885
1. Wyoming
$4,404
Not surprisingly, these states tend to correlate with low student debt.
Out of Christian Science Monitor's list of least student debt by state, Wyoming was #5 ($21,251) and Utah was #6 ($21,520).  While Alaska didn't make the cut, the average debt at the University of Alaska is roughly $24,000.
Wondering where California lies?  Well, it doesn't appear on either top 10 list, yet it placed 2nd on Monitor's lowest student debt ranking at $20,269.  Keep in mind the past handful of years California experienced extreme tuition inflation.
Considering most states with the highest tuition reside on the eastern side of the U.S., if you're avidly eluding the possibility of debt for your student (especially out-of-state), you may want to consider sticking to a western or mid-western college.
Westface College Planning can compare college costs by state, customized to your financial status and needs. We can help navigate the financial aid process from start to finish. To learn how we can help you call us at 650-587-1559 or sign up for one of our Tackling the Runaway Costs of College Workshops or Webinars.
Photo Credit: Judy Baxter
Ready for your own success story?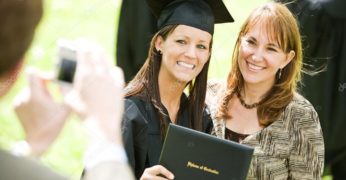 If you're a typical parent with college-bound students, you're probably overwhelmed. You want to help your sons and daughters make the right choices and prevent overpaying for their education. You're not alone! We're here to help. Schedule your free consultation today – click below to get started!
Catch our free, on-demand webinar:
How to Survive Paying for College
Join Beatrice Schultz, CFP® for our on-demand webinar, where she provides parents with the exact steps that often greatly lower the cost of college, even if there's little time to prepare.