Master Your Financial Aid Appeal in 5 Easy Steps
It's about that time of year—when your senior is mid-way through their term—that financial aid packages come flooding into your mailbox. Seeing the raw numbers may cause a bit of panic. You remember hearing something about appealing financial aid, but where do you start? It's a pretty straightforward process, and worth trying.
Financial aid packages are determined by information on the FAFSA, CSS Profile and other additional details on your student's profile. The package/award proposes funding through a blend of need-based and merit-based aid from grants and scholarships and self-help aid from work-study and loans. This award may not be a college's final offer, but if you're thinking of appealing, it's better to get prepared now.
Thankfully, the new Oct. 1st FAFSA filing due date gives you a little breathing room. An open window to file three months ahead of time means colleges are now sending financial aid packages earlier.
Thinking back, were the numbers you crunched into the FAFSA accurate? Or did your student's scholastic achievements amp up later in the year?
If so, it's time to appeal! It's crucial to not only write an effective appeal letter with explicit details, but also follow up swiftly… and with finesse, of course.
Here are five go-to tips when you want to appeal your award package:
See if you're eligible.
Offers are just that: A number proposed and calculated by colleges based on financial need and circumstances.  They aren't necessarily set in stone.
If you do plan on appealing, however, keep in mind colleges generally only reassess under three different types of special circumstances:
– Financial (income, debt, family size, etc.)
– Class rank/accomplishments
– A superior offer from a comparable school
If any of these apply to your student, then you should consider an appeal.
Get in before the deadline.
Before you think about helping your senior draft up your financial aid appeal letter, add a reminder (or three!) to your calendars. Mark the last day to send out your commitment deposit, typically May 1st.  Most colleges will send out their award offers before April 1, 2018. As soon as your student has received all their award letters, start preparing an appeal.
Some colleges have specific appeal deadlines. It pays to check each college's deadline individually. UC Denver, for instance, has an appeal deadline of April 1st.
Of course, the earlier the better.  If the deadline is May 1st, handing in your student's appeal letter in late March or early April guarantees enough processing time on their end.  You wouldn't want to lose your chance waiting patiently for their answer.
On top of the date, carefully read each college's financial aid appeal protocol.  Be sure to  to follow every step of their process to avoid confusion.  They may even disregard your letter if completed incorrectly.
Be sure you're filling out the right form, too. UC Riverside separates each appeal circumstance with separate forms (Changes in income, on-time status appeal, and so on), while Santa Clara University has an all-in-one appeal form.
Back up your claims.
You know the time-frame. You know your family is eligible for reconsideration.  Now you need to gather the evidence.  What kind of evidence? It all depends.
You'll likely need to present a mix of required and supporting documentation to get the best shot at an appeal. Let's say you've suffered an involuntary loss of household income. At the University of San Francisco, these documents are required for consideration:
Letter explaining your change in circumstances
Documentation from previous employer of your last date of employment or severance package
Documentation of loss of benefits (Social Security benefits, Disability Benefits, Child Support, etc.)
Documentation of any current income, including unemployment benefits
Supporting documents may include [list of a few supporting documents].
Scrape up any and every form of proof to make your appeal air-tight.
Structure an outline, and fill in the blanks.
Your letter's structure boils down to three elements:
– An intro characterizing your intent to appeal.
– An explanation of the special circumstance
– A closing statement, reiterating your inquiry to appeal, followed by your name and signature.  A polite thank you doesn't hurt, either.
If you need any ideas on how to outline your letter, plenty of online examples provide guidance.
Show up, follow up.
At the end of your letter, pinpoint an exact day and time you'll call the admissions office to follow up, ideally by the student.  An in-person appearance always makes a bigger statement, if it's available to you.
Consider suggesting a face-to-face meeting in your letter.  Then call a few days afterward to confirm.
If you decide to take the in-person route, bring along any documents that will seal your claims, such as a copy of the highest offer you received elsewhere. I recommend that the student and one parent participate in a phone call or in-person meeting.
When in your meeting (or over the phone), steer clear of the term "negotiate".
Show them a genuine enthusiasm for their future role in your higher education career, but don't shy away from underlining the gap of your parent's financial state versus their offered amount.
Then drive the point home with either the larger offer at a different college or your family's financial change.
Colleges want you to thrive and become part of their community.  Admissions officers are no different.  They'll respond positively to a well-constructed appeal, whether they're able to reformat the offer or not.
If your situation fits the bill, it comes down to how you and your student presents and follows through.  Best of luck!
Westface College Planning can help you construct appeal letters and navigate the financial aid process from start to finish. To learn how we can help you call us at 360-818-7728 or sign up for one of our Tackling the Runaway Costs of College Workshops or Webinars.
Ready for your own success story?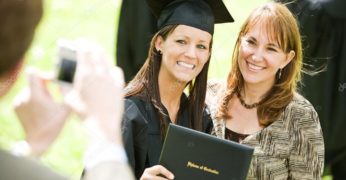 If you're a typical parent with college-bound students, you're probably overwhelmed. You want to help your sons and daughters make the right choices and prevent overpaying for their education. You're not alone! We're here to help. Schedule your free consultation today – click below to get started!
Catch our free, on-demand webinar:
How to Survive Paying for College
Join Beatrice Schultz, CFP® for our on-demand webinar, where she provides parents with the exact steps that often greatly lower the cost of college, even if there's little time to prepare.