Is It Really Impossible to Get into College These Days?
There's no question the students who get the attention of admission officers and do best in the college application process have figured out who they are and what they want.
Be yourself. High school—and the college application process—are about students finding out who they are and what they love — not simply trying to create the image that they've heard is going to impress a college.
You may remember a WSJ op-ed last spring written by a young woman — Suzy Lee Weiss — titled To (All) The Colleges That Rejected Me — in which she talked about how colleges "lie to prospective students" by telling them to "be themselves," when what colleges really want in an applicant is stuffed resumes, an ethnic minority, and "fake charities."
Aside from illustrating the dangers of the use of satire in the hands of teenagers, the op-ed vividly illustrated the fact that this young woman simply does not understand the true nature of the admission process.
When colleges say, "Be yourself," they don't mean, "be a slacker" and they don't mean "be politically correct." And it's certainly not a promise to admit you no matter what. They are simply asking applicants: "tell us the truth about yourself." Because, like most of us, colleges value honesty. But also because an admission office needs to know who you really are when it puts together a class that will meet the college's needs.
Students who ignore their true interests in favor of what they think a college wants are making a mistake — because what a college really wants is to know who they truly are. You do not have to fake it to make it.
One of the reasons applying to college can feel scarier than it has to is that students — and parents, too — believe they can only prepare successful applications if colleges tell them exactly what they are looking for.
So when colleges do not give explicit instructions, students and parents often feel that it must be proof that the process is completely random or rigged in some way.
The truth is that it is not in the colleges' best interest to tell you what they are looking for. What happens in a college admission office is about putting together a class that meets the college's needs. It is driven by institutional priorities — a phrase that most deans of admission and college counselors wish that parents understood — and what that means is, admissions are driven by every college's own self-interest.
Colleges have their own agendas. They are businesses. They have payrolls to meet, facilities to maintain, programs to mount, trustees to satisfy, faculty and staff to keep motivated and happy, and laws to observe. Admission officers have to listen to all of a college's voices.
So what does that mean?
You have all heard a version of this — that a college wants women engineers or a shortstop. But it's much more complicated than that. At the highest level: Colleges each have a mission and they meet that mission in different ways. At public universities, of course, the priority is often a mandate from the legislature to educate the best students in the state as defined by GPA or class rank. Private colleges will seek applicants who reflect the characteristics that fulfill their mission statement—which might be leadership, intellectual ability, or dedication to public service.
Then it gets more complicated.
One admission dean said to me, the faculty owns admissions. And it's not just that the engineering school wants more women, it's that the math department wants to see conceptual creativity in their incoming students, the political science department wants students who will give professors a run for their money in a classroom discussion, and the biology department wants at least some students who are genuinely interested in biology rather than studying it as a stepping-stone to medical school.
Then the people in student life get a say — they want leaders who will run the student organizations, actors to walk the stage, and students to fill the stands at a football game.
The administration chimes in — they want geographic, cultural, and socioeconomic diversity.
And then there is another layer. Some colleges have cultures and personalities that can become an important part of their admission criteria—perhaps they are seeking quirky intellectualism like Harvey Mudd College in California, international applicants like George Washington University or students who want study abroad or cultural immersion experiences like Goucher College in Baltimore.
So what are colleges looking for? All of the above.
Charged with answering all those voices, with building a class that meets all those priorities, admission departments need to know what the applicants are really like in order to meet that charge.
So even more than impressive test scores and fantastic essays, colleges are looking for authenticity.
This is why it is crucial that students set time aside to think deeply about this next phase of their life: what they want out of college, what they absolutely need to have in a school, what they can and can't live without for four years. If students are so overloaded with activities and academics that they do not take the time for self-reflection, they are making a mistake. They need to ask themselves the tough questions that help them emerge with a strong understanding of who they are. Because colleges really mean it when they tell students to "Be yourself."
That's good news. It's not about being the perfect candidate. The perfect candidate may be someone who is imperfect but authentic.

This post is derived from our College Smart Radio blog and was provided by Christine VanDeVelde, co-author of the book College Admission: From Application to Acceptance.  She was a guest on College Smart Radio, "Tackling the Runaway Costs of College", on December 7, 2013.
Photo Credit: Jose Mendivil
Ready for your own success story?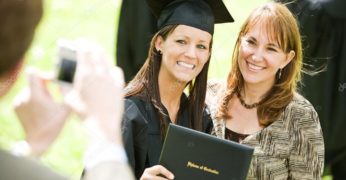 If you're a typical parent with college-bound students, you're probably overwhelmed. You want to help your sons and daughters make the right choices and prevent overpaying for their education. You're not alone! We're here to help. Schedule your free consultation today – click below to get started!
Catch our free, on-demand webinar:
How to Survive Paying for College
Join Beatrice Schultz, CFP® for our on-demand webinar, where she provides parents with the exact steps that often greatly lower the cost of college, even if there's little time to prepare.