How To Make The Most Of Your Campus Tour
When your college-bound student has prepared their list of top colleges and begun moving toward the decision-making phase, the most exciting way to narrow down the selection is with a campus tour. By experiencing the college environment firsthand, talking with program directors and students, and seeing the facilities up close, it will be easier for your student to figure out which college is the best fit.
To prepare for a campus visit, here are six tips to make the most of your time.
How To Make The Most Of Your Campus Tour
1. Register For A Campus Tour
To begin, contact the Admissions Office to find out when guided campus tours take place and if attendees are required to register. Ask how long the tour is, what areas the campus visit covers and if the program your student is interested in also provides an additional tour. Make notes of any facilities or departments that are not part of the campus visit and plan to tour those areas with your student on your own.
Key place to see on your campus tour include:
Dormitories
Classrooms
Dining Hall
Student Center
Sports Facilities
Library
Computer Lab
Academic Departments
Arrange to meet with an advisor in the Financial Aid Office and inquire about costs, financial aid and scholarship opportunities. If your student already has a career path in mind or is interested in the college's sports programs, inquire if the program director or a staff member in that department is available to meet with you and your student as well.
2. Create Campus Tour Questions
To prepare your student for their campus visit, have them review the college's website in-depth and prepare a list of questions to ask the tour guide, a program director and current students. Live Career has a great list of sample questions. Here are a few to get started:
For the tour guide:
What types of dorms are available?
What is the average class size?
Are there part-time jobs available on campus?
What types of student activities are there?
For an academic program or sports director:
Are there opportunities to work with professors on research projects?
Are on-campus internships available?
How do students involved in sports balance out their course workload?
For a student:
Is there a particular part of campus that students hang out?
How diverse is the campus?
Is it easy to get around campus without a car or do students need one?
3. Record Campus Impressions
Throughout the campus tour, encourage your student to take photos and a few notes about their impressions of the campus visit. What did they like about the student center? Did they feel at home on campus grounds? What did they like or not like about the dorms? As they narrow down their choices, the combination of photos and notes will help them remember aspects of each college campus that appealed to them.  
4. Live Like a Student
Some campuses offer college overnight visits in a dorm room with a current student. Spending the night on campus will give your teen the opportunity to ask questions in a more comfortable setting and attend club meetings, campus events and classes, as well as discover how they will transition to the next phase of their life, make new friends and live with roommates.
If the college doesn't offer overnight visits, there are things you can do with your student to give them a sense of their daily routine, such as eating in the dining hall and sitting in on a lecture.
5. Explore The Community
Don't focus only on the campus grounds; venture out into the community and chat with locals. See what services the town has to offer, such as grocery stores, shopping centers, restaurants, and museums, as well as how easily they can be accessed from campus.
6. Time Your Campus Visit
During the summer months, it is often easier for families to go on a campus tour as teens are out of school and don't have such a rigorous class schedule. However, a campus tour in summer won't necessarily give your student an accurate view of the school's culture during the busy academic school year. If possible, plan to visit potential colleges two times: one at a convenient time for the family and another when college is in session. For a campus visit timeline, Affordable Colleges Online provides a game plan for juniors and seniors in high school.
Need Help With Your College Funding Plan?
At Westface College Planning we help parents and students figure out how to pay for college and create an affordable college funding plan. Contact us today with your questions!
Ready for your own success story?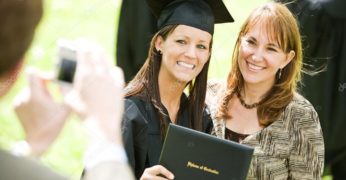 If you're a typical parent with college-bound students, you're probably overwhelmed. You want to help your sons and daughters make the right choices and prevent overpaying for their education. You're not alone! We're here to help. Schedule your free consultation today – click below to get started!
Catch our free, on-demand webinar:
How to Survive Paying for College
Join Beatrice Schultz, CFP® for our on-demand webinar, where she provides parents with the exact steps that often greatly lower the cost of college, even if there's little time to prepare.