High Graduation Rates, High Price Tags
How do four-year graduation rates tie to colleges and acceptance rates?
It should be safe to assume that degree of difficulty regarding acceptance would prove itself as a top-tier link, and that is certainly a factor.  However, another towers over that facet, proving itself as the stronger correlation: tuition.
According to U.S. News Education, these ranked as the top 10 colleges with the highest reported graduation rate percentages:
Take Haveford College in Pennsylvania, for instance.  You can expect the tuition to break the bank, and it does, at around $47,000 per semester.  With the average at $22,203 for out-of-state residents in the 2014-15 school year, Haveford charges over twice the median tuition amount.  Admission rates are certainly a telling percentage, as well; for Haveford, it floated at 23.5% as of fall 2013.
Similarly, Davidson College in North Carolina averaged $45,377 in tuition and fees for 2014-15 and a slightly higher acceptance rate: 25.6%.
Keep in mind the U.S. Department of Education—wherein these percentages derive—only considers full-time students into their metrics, discounting part-time and transfer students.
While the graduation rates are undoubtedly impressive and causes one or more of them to situate a spot on your top college list, make sure you can cover part of their increased tuition with financial aid or other equally cost-saving means.
Westface College Planning helps navigate the financial aid process from start to finish.  To learn how we can minimize college cost, call us at 650-587-1559 or sign up for one of our Tackling the Runaway Costs of College Workshops or Webinars.
Photo Credit: truthout.org
Ready for your own success story?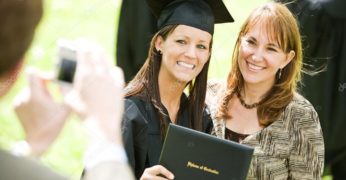 If you're a typical parent with college-bound students, you're probably overwhelmed. You want to help your sons and daughters make the right choices and prevent overpaying for their education. You're not alone! We're here to help. Schedule your free consultation today – click below to get started!
Catch our free, on-demand webinar:
How to Survive Paying for College
Join Beatrice Schultz, CFP® for our on-demand webinar, where she provides parents with the exact steps that often greatly lower the cost of college, even if there's little time to prepare.