By Jerilyn Klein Bier
Published September 2017 on Financial Advisor Magazine
When financial planner Beth Walker's son was born in 2002, she used the College Board's cost calculator to project how much it would cost to send him to college. "I was literally blown away," she says, by the $250,000 estimate. She was sure there had to be a better way to plan for college.
Walker, an advisor with the Las Vegas-based Wealth Consulting Group, first earned a designation as a certified college planning specialist. But she was disappointed she couldn't find more formal education on college planning through the profession's main credentialing channels.
"This niche is the stepchild of the industry," says Walker, who is based in Colorado Springs. So she started developing her own resources, then eventually her own specialty firm, now known as the Center for College Solutions (it was first called College Funding Coaches).
Other financial advisors have tried to fill the industry void as well. Joe Messinger was at a loss more than a decade ago when his friends leaving graduate school asked him how to manage their student loan debt.
"I had to say, 'I don't know anything about that stuff,'" he says. "I started poking around but couldn't do anything in my big broker-dealer firm and I found no good advice out there." His initial thoughts about how to pay off education debt evolved into, "How do we stop this now before we get in over our heads?" he says.
Messinger and his colleague Ryan Sheppard were young and looking for an underserved market for which they could build a practice, he says. In 2009, they co-founded Dublin, Ohio-based Capstone Wealth Partners, a fee-only planning firm with an emphasis on college planning and a target market of dual-income, mass-affluent families. Messinger runs the college planning side; Sheppard focuses on investments and clients' other planning needs. Early this year, they launched Capstone College Partners, which offers videos and other resources to teach other advisors how to do college planning and market a practice.
Beatrice Schultz, co-founder of Vancouver, Wash.-based Westface College Planning, first heard about the subject in 2010 while attending an industry conference. To learn more, the former chemical engineer, who spent 20 years in the semiconductor industry before becoming a CFP in 2007, joined a couple of organizations and met Walker. She learned a lot about the academic side of college planning from the National College Advocacy Group (NCAG).
When advisors reach out to Schultz to ask about building a college planning practice, she stresses the importance of really understanding the specialty and being passionate about it. It's easy to enter the field as an "expert," she says, but harder to actually be an expert.
Developing A Focus
Like students searching for colleges, financial advisors also need to "find the right fit" when determining the scope of their practice as college planning practitioners.
Walker has found that most advisors get into college planning to discuss cash flow with parents and don't think they'll have to actually talk to students—because that's what guidance counselors and consultants do. But from her vantage point, as a parent and a planner, she says, "You can't unbundle this process."
She had this epiphany when the child of one of her clients, upon arriving at college, "had a complete meltdown," she says, and had to be taken home. "I never asked if he'd spent time away from home or what he wanted to major in," she says. "He wasn't emotionally ready [for college]," she says. An extreme case, she says, "but it was so telling to me."
After meeting with parents and kids, Walker comes up with a specific "prescription" detailing what the family must do to succeed in the college planning process. During this process, they can opt to be do-it-yourselfers or choose her services à la carte. She doesn't personally tackle everything related to college.
"The job I'm applying for is like a contractor on a kitchen remodel," she says. "I know your time and budget, and I have excellent subcontractors."
Her subcontractors, experts in their fields, help kids figure out things such as suitable majors and careers, how to get recruited for college sports and land athletic scholarships and how to organize college applications and essays. The subcontractors also help families file financial aid forms, find the schools that offer the most need- or merit-based aid and appeal for a more generous financial aid package from a college. Walker also works with a CPA who specializes in tax planning for clients during the college years and works with a coach who helps high schoolers get the mind set to succeed in college.
To keep things simple, the Center for College Solutions does all the billing for clients and pays each subcontractor. If clients want financial planning beyond the cash flow piece for college, Walker provides this through her RIA firm, the Wealth Consulting Group.
She also serves as a subcontractor for other advisors on the college-planning piece (test prep, etc.) while those advisors handle the financial side of college for their clients. Last year, she tried to work as a paraplanner or back office for advisors on all college matters but decided not to pursue this business model. It was extremely complicated and required "too much time herding cats," she says—particularly if an advisor who wanted to use her services had a different broker-dealer, different regulatory structure and different licensing.
Walker recently authored the book Never Pay Retail for College to clarify what she does, reach a broader audience, open doors and boost credibility with high schools and other professionals (especially CPAs). She conducts educational workshops wherever parents gather—from soccer club and church group events to financial aid nights at high schools. She and Schultz have also found clients through their talk radio shows.
Messinger always points out that Capstone isn't a college planning firm but rather a financial planning firm for college-bound families. "It's a subtle nuance, but it's a big difference," he says. "We can attract great, lifelong advisory clients by helping them with this acute issue."
He refers clients to experts in the non-financial aspects of college planning, the same way he might refer people to tax and estate attorneys, CPAs, money managers and insurance experts. He networks with college admissions counselors, independent college consultants and test-prep tutoring companies.
In its first five months, Capstone College Partners put 60 to 70 advisors through its online training program—a much greater response than Messinger anticipated. He's seen interest from some advisors affiliated with broker-dealers. But it's not yet clear how they can make money through college planning, he says, and there are uncertainties about compliance. "It's not securities advice or insurance advice, so where does it fall?" he says.
Capstone College Partners also farms out its services to advisors who need the help but otherwise don't have many college planning clients.
Keeping Compliant And Current
For compliance reasons, Schultz is careful to keep her college planning and financial planning practices separate. She will only speak to families about specific college-related investments if she has a signed financial agreement with them—and then she puts on her RIA hat (she's also the co-founder of two other firms, Westface Financial Advisory and Westface Financial and Insurance Services).
Most of her clients work with a private admissions counselor to develop a list of colleges to apply to, but she then helps add or eliminate schools to fit the financial part of the equation.
Some college clients have hired her for long-term planning needs. And she gets lots of referrals. People in groups often freely admit they are lost when it comes to college financial planning, she says, "whereas there's no other part of their financial picture that they would share with people at the side of the soccer field or with their neighbors at a cocktail party."
Advisor Sean Flynn has focused on college planning for the past five years. His expertise in this subspecialty—an interest initially fueled by the needs of his friends and neighbors—is a big reason he was hired by Connecticut-based Essex Financial last year, he says. About half his clients have children under the age of 18, and the others are grandparents having conversations about college. Flynn, who has the certified college planning specialist credential, also helps his colleagues do college planning for their clients.
"College planning is lock and step with retirement planning," Flynn says, noting that about 50% of the new clients he brings in through the educational seminars he conducts sign on for full financial planning. He also offers à la carte college-planning services. He's working on building relationships with more CPAs and college counselors.
Advisors don't have to be in a wealthy college-focused market like Fairfield, Conn., to get involved in the space, however. "Even in a small town, the 529 business we do is good," says Brent Courter, an Edward Jones advisor in rural Loogootee, Ind. (population: 2,700). "It's really about educating people."
"I plant the seed of saving for college in my clients' heads," he says, and the majority of them are now talking about long-term planning for college. He's found it most effective to start conversations through the grandparents of newborns.
Education on college planning is starting to pick up. The College for Financial Planning doesn't offer a specific program related to college planning, but it addresses the subject in nearly all its programs, and the CFP certification program has an entire course module dedicated to it, says Chris Allen, the organization's director of marketing.
The College for Financial Planning will host a live webinar on college planning on October 10, and it offers a continuing education course. "I fully expect us to develop additional college planning content in the form of webinars, CE courses, white papers and course modules within our existing comprehensive programs," Allen says.
Messinger offers some parting words on college: "It's a $250,000 investment—we think you can't call yourself an advisor if you're not advising on it."
Westface College Planning can help you construct appeal letters and navigate the financial aid process from start to finish. To learn how we can help you call us at 360-818-7728 or sign up for one of our Tackling the Runaway Costs of College Workshops or Webinars.
Ready for your own success story?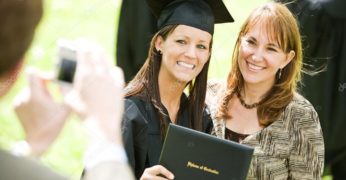 If you're a typical parent with college-bound students, you're probably overwhelmed. You want to help your sons and daughters make the right choices and prevent overpaying for their education. You're not alone! We're here to help. Schedule your free consultation today – click below to get started!
Catch our free, on-demand webinar:
How to Survive Paying for College
Join Beatrice Schultz, CFP® for our on-demand webinar, where she provides parents with the exact steps that often greatly lower the cost of college, even if there's little time to prepare.