Have A Sophomore In High School? Plan For College Now!
August is here! As the leisurely days of summer move into a bustling schoolyear, we want to help make sure you and your student are on an affordable college-bound path. I'm also sharing helpful advice in Forbes and Real Simple, both of which I've included below!
Is your student a sophomore this year? Start planning now! Figuring out your financial outlook narrows down the best financial strategies and gives you talking points about affordable college choices as your teen begins researching colleges and attending college fairs.
Has your student already narrowed down their top college choices? Visiting a college campus is the best (and most exciting) way for them to envision the next stage of their life. Follow these guidelines to make the most of your campus tour and help them determine if a college is right for them.
Calculating the return on college investment can be tricky. Forbes shares three steps to improve ROI, including insight from me about the financial return and expense for parents.
Looking for more ways to save for college? Follow this advice from Real Simple to guide you, including a tip from me on how to engage your kids early in the college saving process.
Do you want to make sure you and your student are on a financially sound path? With so many options to navigate discovering the real costs of college can be daunting. That's where I can help! Give me a call at 360-818-7728, or sign up for a complimentary college funding consultation or educational webinar today!
I look forward to talking with you soon and enjoy the last days of summer!
– Trixie
Beatrice Schultz, CFP®
Westface College Planning
WA: (360) 818-7728
CA: (650) 587-1559
www.WestfaceCollegePlanning.com
Tips for Parents
College Planning for Sophomore High School Year
It might seem early to have a college funding plan in place if your daughter or son is only 14 or 15. It's not!

A student's sophomore year in high school is the best time to start college planning as it marks the next phase for parents to narrow down the best financial options and strategies for their college-bound student.

To stay on track, use this high school college planning checklist for sophomores.
Read more at Westface College Planning.
How To Make The Most Of Your Campus Tour
When your college-bound student has prepared their list of top colleges and begun moving toward the decision making phase, the most exciting way to narrow down the selection is with a campus tour.

By experiencing the college environment firsthand, talking with program directors and students, and seeing the facilities up close, it will be easier for your student to figure out which college is the best fit.

To prepare for a campus visit, we have six tips to make the most of your time.

Find out what they are at Westface College Planning.
Tips By Trix
Tip #1: To maximize financial aid eligibility figure out your Expected Family Contribution (EFC) during your student's sophomore year and havethem research colleges within that price range.

Tip #2: To help your student manage their money at college, develop a budget that shows them a clear picture of monthly expenses (such as transportation, groceries and supplies) and outlines spending limitations

Tip #3: When withdrawing monies from a 529 Plan the smartest choice is to have the check made directly to the account owner. That gives you more control over how your money is allocated for qualified education expenses.
Want more helpful tips on how to create a college funding plan? Contact us today for a complimentary consultation!
On-Demand Free Webinar
Enroll in our FREE on-demand webinar and learn how to calculate:
Expected Family Contribution (EFC)
Cost of Attendance (CoA)
FAFSA & CSS profile
Public vs. private costs
How you can afford college without jeopardizing retirement
Enroll for free now! Just click the button below!
Fun College Facts
The Squirrel Club at the University of Michigan in Ann Arbor has more than 400 members
The Reed Research Reactor at Reed College in Oregon is the only reactor operated primarily by undergraduate students
A beloved banana slug called "Sammy the Slug" is the mascot of the University of California at Santa Cruz
In College News
What's The Return On A College Education?
A college education is expensive and getting more so every year. In the just completed 2018-2019 academic year, according to the College Board, the price for tuition, plus room and board averaged $48,510 for undergraduates at private non-profit four-year colleges and $21,370 for undergraduates attending their own state's four-year colleges.
Yes, those are "sticker" prices and don't reflect scholarship aid schools may give (essentially discounts off the list price), or cheaper options that can cut costs. Spend your first two years at a public community college, and the cost averaged just $12,320—and only $3,660 of that is tuition, meaning you can do it cheaper by living at home to save on room and board.
Continue reading this article on Forbes.
8 Smart Tips For Paying For College
America's collective college debt is now almost $1.5 trillion. Yes, trillion. (If you stacked that many dollar bills on top of one another, they would reach more than 99,000 miles into the atmosphere, which is about 40 percent of the way to the moon!)
Astronomical numbers aside, there are plenty of smart ways to plan for the expense, says certified financial planner Joe Messinger, cofounder and director of college planning at Capstone Wealth Partners in Dublin, Ohio. Here's how to help your family emerge from those college years in solid financial shape.
Ready for your own success story?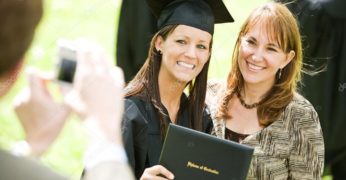 If you're a typical parent with college-bound students, you're probably overwhelmed. You want to help your sons and daughters make the right choices and prevent overpaying for their education. You're not alone! We're here to help. Schedule your free consultation today – click below to get started!
Catch our free, on-demand webinar:
How to Survive Paying for College
Join Beatrice Schultz, CFP® for our on-demand webinar, where she provides parents with the exact steps that often greatly lower the cost of college, even if there's little time to prepare.