Graduate From School in Four Years?
Did you get your college degree in four years? If so, then you're one of the lucky few. More and more students are taking a fifth or sixth year in school to earn their bachelor's degree. According to the Department of Education, fewer than 40% of students who enter college each year graduate within four years, while almost 60% of students graduate in six years.
There are many reasons for delaying graduation. For students who choose to work part time or participate in internships during the school year, it can be tough to fit in all the necessary courses. Overcrowded classes are also factors as overcrowding can make it impossible for students to fulfill degree requirements in a timely manner. Another common factor is a student changing their major midway through college, making a four-year degree impractical. All these concerns are making four-year degrees passé.
More often, administrators at universities want to draw attention to six or even eight-year graduation rates, trying to make them the new normal. At the same time, four-year graduation rates can affect a colleges' national ranking, which play heavily in recruiting students. A shorter time to get a degree also means more students can receive an education from a given school and can potentially reduce campus overcrowding. Many schools, ashamed by their low numbers, have pressed for a more liberal definition of graduation.
Meanwhile a bipartisan congressional effort is growing to force colleges to give prospective students more helpful information than an eight-year graduation rate. A measure in the Senate would give students post-graduation salary information by major and even provide a federal "unit record" database that would track students from college into the workforce. This would provide a much better analysis of the performance of an individual school.
So far, colleges have successfully warded off the unit-records approach, even getting it outlawed in 2008 on the grounds that an individual's privacy would be compromised. However, many believe the schools' real fear is of being explicitly compared with competitors. Many feel universities want to keep living the "good life," with lots of public subsidies, rising salaries for top administrators and little accountability or exposure to market forces.
For the students, an extra 5th, 6th, 7th or 8th year adds a huge expense. Many scholarships are only available for four years, plus with inflation, those last years are guaranteed to be the most expensive. Those extra years are often the unplanned for ones, so students are forced to take on more debt. The system does need to be changed.
What do you think needs to be done to change the system and get students their degrees in four years?
Westface College Planning can help you build a college funding plan and navigate the college planning process from start to finish. To learn how we can help you call us at 650-587-1559 or sign up for one of our Tackling the Runaway Costs of College Workshops or Webinars.
Photo Credit: geoffduncan
Ready for your own success story?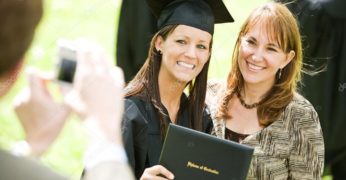 If you're a typical parent with college-bound students, you're probably overwhelmed. You want to help your sons and daughters make the right choices and prevent overpaying for their education. You're not alone! We're here to help. Schedule your free consultation today – click below to get started!
Catch our free, on-demand webinar:
How to Survive Paying for College
Join Beatrice Schultz, CFP® for our on-demand webinar, where she provides parents with the exact steps that often greatly lower the cost of college, even if there's little time to prepare.