Got Student Debt? Let Your Boss Pay It Off!
Summer is all about fun with family and friends, especially for students as they take a break from the busy academic school year. Besides enjoying themselves in the next few months, your high school student may have a summer job, but have you talked with them about a professional career? Now is a perfect time!
Do you know what your student's dream job is? Use these questions to help guide them in the right direction and navigate career choices. It's important they have a career direction in mind before they choose a college so they can find a program suited to their interests.
Speaking of careers, did you know a growing number of employers are offering benefits packages that help pay employees' student loan debts? It's true! As more companies recognize the burden of loan debt, the benefits being offered are a tremendous incentive to help graduates pay off their balances more quickly.
Want to make sure you can help your student pay for college without jeopardizing your retirement? There are many fantastic options that can help with the process and I'm happy to discuss them with you. Give me a call at 360-818-7728, or sign up for a complimentary college funding consultation or educational webinar today!
I look forward to talking with you soon and until then, enjoy the rest of July!
– Trixie
Beatrice Schultz, CFP®
Westface College Planning
WA: (360) 818-7728
CA: (650) 587-1559
www.WestfaceCollegePlanning.com
Tips for Parents
The Best Career Choices For Students
Children are commonly asked, "What do you want to be when you grow up?" They might dream of being astronauts, firefighters, doctors, teachers, etc. However, as they move into their teenage years, they often want to explore other career choices.

Conventional wisdom claims a student's choice of college and major will drive their occupation. However, for college to be the best investment, it needs to be the other way around: The career choice should drive the selection of college and area of study which will help them, and you, make the best decision about college.
Read more at Westface College Planning.
Tips By Trix
Tip #1: The sooner you start saving for your children's college education, the more time you will have for your savings to grow and to understand how much financial aid you'll need.

Tip #2: Good grades are important, but college and scholarship committees have many applicants with outstanding GPAs and test scores. Have your student get involved in school and community activities to help boost their profile.

Tip #3: Make financial aid a part of your campus visits. Ask to speak with someone in the student financial aid office as it's the best way to help your family become familiar with campus-based awards and the Free Application for Federal Student Aid (FASFA) process.
Want more helpful tips on how to create a college funding plan? Contact us today for a complimentary consultation!
On-Demand Free Webinar
Enroll in our FREE on-demand webinarand learn how to calculate:
Expected Family Contribution (EFC)
Cost of Attendance (CoA)
FAFSA & CSS profile
Public vs. private costs
How you can afford college without jeopardizing retirement
Enroll for free now! Just click the button below!
Fun College Facts
Most majors require students to have an internship for one semester
Benjamin Franklin was the first president of the first board of trustees for the University of Pennsylvania in Philadelphia
The University of Washington was founded in 1861, making it one of the oldest colleges on the West Coast
In College News
Companies Offer Student Loan Repayment Help To Lure Young Workers
Forget gym memberships, ping-pong tables and free snacks. When it comes to luring top Millennial talent, companies have a new pitch: offering to pay down a portion of employees' student debt.
With student loans outstanding reaching $1.5 trillion this year, employers realize it's a perk that can attract some of the best-educated recruits. Among those who have student debt, the average owed was $32,731, according to a recent Federal Reserve Report on the Economic Well-Being of U.S. Households. That's enough that many younger households aren't feeling so well—or doing things they want, like having kids, buying homes or saving for retirement.
Meanwhile, corporate America is struggling to attract talent, what with the unemployment rate below 4% and Baby Boomers heading into retirement. So to recruit and retain graduates, some employers have begun offering to help with student debt repayment.
Ready for your own success story?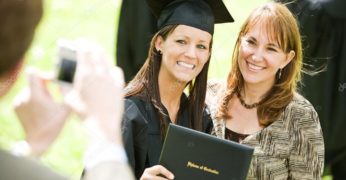 If you're a typical parent with college-bound students, you're probably overwhelmed. You want to help your sons and daughters make the right choices and prevent overpaying for their education. You're not alone! We're here to help. Schedule your free consultation today – click below to get started!
Catch our free, on-demand webinar:
How to Survive Paying for College
Join Beatrice Schultz, CFP® for our on-demand webinar, where she provides parents with the exact steps that often greatly lower the cost of college, even if there's little time to prepare.