Federal Student Loan Default Rates: What You Need to Know
It's no secret this is a tough economy for recent college graduates. Jobs are scarce and tuition costs are high. In fact, according to the Department of Education (ED) federal student loan default rates climbed to 8.8 percent in 2009, the most recent year for which data is available. This marks the fourth year in a row loan defaults increased.
According to the National Association of Colleges and University Business Officers (NACUBO), the recent jumps in defaults likely reflect the current economic recession and challenges the American economy has faced since 2007, which has led to bleak job prospects for recent college graduates. The NACUBO also sites that 56 percent of those who received a bachelor's degree in spring 2010 had held at least one job by spring 2011, compared with 90 percent of graduates from the classes of 2006 and 2007.
What can high school and college students do when facing high tuition costs and a bleak economy?
Get as much financial aid as possible. Apply for as many scholarships as you can. Look in your community, search online and explore every single option you can think of. Westface College Planning can help you make this a reality as well!
Be careful where you get your loans. ED's data show default rates increased at all institutional types, but borrowers from private for-profit institutions account for a very large portion of the defaulters.
Manage your money carefully. A lot of college students dig themselves into debt even before their student loans kick in. MSNBC offers some great money management tips for young adults, including being careful with credit cards, starting to save early, shopping wisely and more.
Consider your major carefully. Sure, you might like history, but is it going to help you find a job after you graduate? Remember you're choosing a career, not just a degree; instead study something more marketable like accounting, finance, engineering, computer science or business. If you're really drawn to art or history, consider going for a minor in those departments instead.
Get as much experience as you can. Yes, you'll be busy in college, but try to make yourself marketable by taking advantage of as many internships as possible. Consider the summer breaks a great time to build your resume, and look for internships near your school that will let you work part time when you're not in class.
Want additional ways to make sure you don't default on your student loan? Contact us for more suggestions!
Photo Credit: AMagill
Ready for your own success story?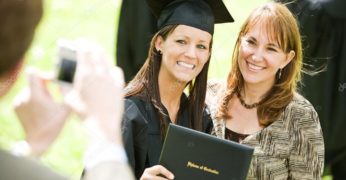 If you're a typical parent with college-bound students, you're probably overwhelmed. You want to help your sons and daughters make the right choices and prevent overpaying for their education. You're not alone! We're here to help. Schedule your free consultation today – click below to get started!
Catch our free, on-demand webinar:
How to Survive Paying for College
Join Beatrice Schultz, CFP® for our on-demand webinar, where she provides parents with the exact steps that often greatly lower the cost of college, even if there's little time to prepare.