Facebook & College Admissions: What You Should Know
Social media has become the go to medium for expressing everything from a persons' baby pictures to political views; so it's not surprising that colleges are looking into students backgrounds by checking up on their Facebook accounts. Gone are the days when all a student had to worry about on their college application was GPAs, resumes, extracurricular activities and campus interviews. Now, students have to worry about their online presence from their Facebook profiles. With top schools closely guarding the reasoning behind admissions decisions, many high school students are now assuming the worst and implementing online safeguards. This would have never occurred to teenagers five years ago, when Facebook was just a private network and Google was still a noun.
A recent Kaplan Test Prep survey of 350 admissions officers found that many of them had looked up college applicants on Facebook or Google. Off campus, a similar percentage of private scholarship organizations also acknowledge researching their applicants online, according to a National Scholarship Providers Association survey. Still many admissions directors are reluctant to provide specifics on how they scour social media feeds. The Kaplan survey says only 15% of colleges abide by a strict social media policy when it comes to applicants, such vetting is often at the discretion of individual officials. But college officials also point out that time restraints would make it nearly impossible to analyze every applicant through social media. However, some admit to exploring applicants' social media timelines to make a "high stakes" decision, like awarding a prestigious scholarship, when two applicants have a similar background.
To combat this, many students are creating Facebook pages with aliases instead of their real names to keep prying college admissions out of potentially embarrassing or negative photos and information. This may actually be a smart move since 26% of admission officers who have checked an applicant's Facebook page say they have discovered something that negatively impacted an applicant's chances of getting into the school. Offenses cited include essay plagiarism, vulgarities in blogs, alcohol consumption in photos, things that made them "wonder" and "illegal activities." Facebook, a tool originally designed to help Harvard kids get to know each other, may now be keeping future applicants from getting into the college of their dreams.
For students who choose to change their Facebook names to ensue privacy, there can be consequences for violating the company's official terms of use. About 8% of the network's 1 billion accounts are fakes or duplicates. Facebook can ban such users permanently when caught, and the company encourages users to report fake accounts.
So the lesson is, be careful what you put out into cyber space. Once something is on the Internet it's hard to hide or even delete. A savvy searcher can find someone based on a phone number, email address or even through their friends, if they have a fake profile. Here's a tip, keep track of all your security features and keep your profile private whenever possible. But the best piece of advice is don't put anything on your profile you wouldn't want your parents to see.
To learn more about how Westface College Planning can help you navigate the financial aid process call us at 650-587-1559 or sign up for one of our Tackling the Runaway Costs of College Workshops or Webinars.
Photo Credit: MoneyBlogNewz
Ready for your own success story?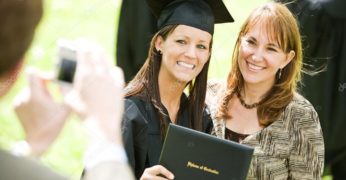 If you're a typical parent with college-bound students, you're probably overwhelmed. You want to help your sons and daughters make the right choices and prevent overpaying for their education. You're not alone! We're here to help. Schedule your free consultation today – click below to get started!
Catch our free, on-demand webinar:
How to Survive Paying for College
Join Beatrice Schultz, CFP® for our on-demand webinar, where she provides parents with the exact steps that often greatly lower the cost of college, even if there's little time to prepare.