Competency Based Education will be a Disruptive Force in Higher Education
Get ready for a "game changing" system of learning that will soon replace the old model of the "credit hour" and "seat time".  Competency Based Education (CBE) is the next innovative initiative to reach higher education. CBE is a move to personalize learning – teaching degree seeking students what they don't know and by-passing what they already know, and doing it for about half the cost.
The Background: On August 22, 2013 President Obama outlined his "Plan to Make College More Affordable" in a report released by the White House. The President stated his desire to promote innovation and competition in the higher education field through a number of different initiatives. Topping that list was this header: Award Credits Based on Learning, not Seat Time. There has been a regulatory awakening by the U.S. Department of Education that is actively seeking new models of learning and CBE has moved to the forefront.
In November 2011, Secretary of Education Arne Duncan told the New York Times, "I want them to be the norm," referring to competency based education programs. Many high performing institutions are submitting groundbreaking competency-driven approaches.
In 2014, there are some alarming trends in higher education. Enrollments have declined over the past year due to higher costs. 54% of Americans are underemployed and employers are telling educators that the skills gap is widening. Institutions, such as Brandman University, view competency based education as a way to address these issues.
The Solution: Provide a low cost degree that is granted only after an individual has mastered a core set of competencies. Competencies are derived from employer requirements, professional certifications, Lumina Foundation Degree Qualifications Profile and the American Association of Colleges & Universities Leap value rubric competencies.
A student can complete the degree at his/her pace. At $5,400 a year, tuition will be approximately half of what a state university would charge, and the time it would take to complete a degree would be roughly 30 months. Embedded content eliminates the need for costly textbooks. Students will take an assessment and then adaptive software will modify the content so that students will be taught only what they don't know. A  mix of faculty mentored learning with algorithmic learning and analytics produces adaptive learning.
It is important that once a student graduates they will have the skills necessary to compete in the job market. Brandman University will begin offering a competency based bachelor's of business administration later this year with the goal of providing students a quicker, less expensive path to completion of their degree.
This post was originally published on our College Smart Radio website and was provided by Gary Brahm, chancellor of Brandman University.  Gary was a guest on College Smart Radio "Tackling the Runaway Costs of College" on February 8th, 2014.

Photo Credit: Brandman University

Ready for your own success story?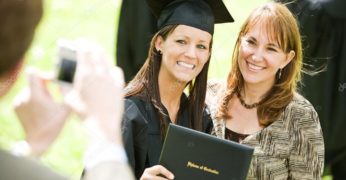 If you're a typical parent with college-bound students, you're probably overwhelmed. You want to help your sons and daughters make the right choices and prevent overpaying for their education. You're not alone! We're here to help. Schedule your free consultation today – click below to get started!
Catch our free, on-demand webinar:
How to Survive Paying for College
Join Beatrice Schultz, CFP® for our on-demand webinar, where she provides parents with the exact steps that often greatly lower the cost of college, even if there's little time to prepare.