College Tuition: One Price for All Four Years
College is one of life's big-ticket purchases and figuring out how much it will actually cost you can be difficult.  Starting this year, the Federal government has required colleges to post a net-price calculator on their college websites to make it easier for families to estimate how much college will cost them. The net-price calculator asks questions about your family and its' money; then it estimates what the college will charge you per year after grants and scholarships are applied. The net-price includes room and board, fees and textbooks, but it doesn't take into account student loans or work-study programs, only grants. It does however include Federal tax breaks, which can lower a typical family's tuition bill by thousands of dollars.
How accurate are the numbers that come out of these net-price calculators? According to Mark Kantrowitz, publisher of FinAid.com, the net-price calculator is accurate enough to get a student started. It tells a student whether it's inside or outside the ballpark of affordability. The more questions a student asks it the more accurate it's going to be.
But many experts say the problem isn't the net-price calculators, it's that many families aren't seeing the bigger picture. Families are focused on what students will have to fork over for a single year of college when, presumably, they plan to complete an entire degree. It's not as easy as one year's price times four years. It's more complex than that because factors change. Tuition and fees will most likely go up. A students' level of aid can change because of their financial circumstances, grades, or because their state runs out of money in its grant program, the federal government changes a policy, or the college has front-loaded its grant aid. That uncertainty makes it especially hard to know how much a student is likely to borrow.
There has been a recent wave of officials and experts calling for colleges to give prospective students one price for all four years. Governor Rick Perry of Texas is one of those officials. In a recent conference in Dallas, TX, he emphasized his desire to see universities keep tuition at a set price for a student's first four years of college, as well as calling for institutions to tell students how much their degrees will cost if they graduate in four, five or six years.
"Implementing these measures will meet the growing demand for higher education in a way that provides encouragement for students to complete their degree in a timely fashion and with financial certainty," said Perry.
Providing that information could spark an important conversation with families about how much a degree will really cost them and how important on-time graduation is to their pocketbooks. For colleges, committing to a four year tuition and aid level would require more planning because they are subject to unpredictable changes in state support, endowment performance and costs. However, many believe a four year sticker price wouldn't magically make college affordable. It would be a financial plan that would help students' think more clearly about a decision that carries real financial consequences for themselves and their families.
What do you think of one price for all four years of college? Do you think it would make the financial burden easier?
To learn more about how Westface College Planning can help you prepare for college call us at 650-587-1517 or sign up for one of our Tackling the Runaway Costs of College Workshops.
Photo Credit: borman818
Ready for your own success story?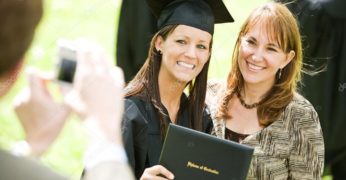 If you're a typical parent with college-bound students, you're probably overwhelmed. You want to help your sons and daughters make the right choices and prevent overpaying for their education. You're not alone! We're here to help. Schedule your free consultation today – click below to get started!
Catch our free, on-demand webinar:
How to Survive Paying for College
Join Beatrice Schultz, CFP® for our on-demand webinar, where she provides parents with the exact steps that often greatly lower the cost of college, even if there's little time to prepare.