College Planning: How To Calm Your Anxiety
High school seniors aren't the only ones who have to deal with the stress of planning for college. Parents almost always have the biggest anxiety when it comes to wondering how they are going to pay for their child's college education without putting themselves into debt.
Two of the most common causes of college planning stress are little to no comprehension of what a college education will cost and procrastinating on when to start saving. It's surprising how many people with children look at college as something in the far distant future when in reality they only have a few years to save. Talk to any parent and they'll tell you children grow up fast. One day they are babies sitting on your lap and the next they are ready to move out and move on to college.
But planning for college doesn't have to be so stressful. Here are some steps you can take to greatly reduce this nerve-racking time.
Step 1 – Before building a "paying for college plan" you need to get an accurate evaluation of your personal financial situation and set financial goals. It's imperative to know all the resources you have to work with.
Step 2 – Calculate the actual projected costs of college for all your children. Most families greatly underestimate the current cost, rate of inflation and the number of years that it will actually take their kids to graduate. It's important to have a clear view of how much you may actually spend for your children's college education.
Step 3 – Educate yourself about all the college financing options out there such as financial aid, merit based aid, student loans, athletic aid, scholarships and how much you as a parent are willing to contribute to your child's educational goals. Getting a plan in writing is key – then it can be tweaked and modified as needed.
Step 4 – Start saving! Do the math. It's recommended you should be saving $200 per month for a newborn, $350 per month for a first grader, $450 per month for a fifth grader, and it goes up from there. If you wait until high school to save, you're probably looking at spending $1,000 per month. The lesson here is the sooner you start saving the better your child's college nest egg will be.
Most importantly, when the time comes be sure to discuss the plan with your child. College is not only an educational responsibility but also a financial one. Your child needs to know what you are and are not willing to pay for while they are in school. Setting those boundaries and goals will not only help your child understand their responsibility but it will help you to stay on track as their parent.
If you still don't know where to start don't worry! Contact us today to learn more about how Westface College Planning can help you navigate the college planning process from start to finish. Call us at 650-587-1559 or sign up for one of our Tackling the Runaway Costs of College Workshops or Webinars.
Photo Credit: SFU Public Affairs and Media Relations
Ready for your own success story?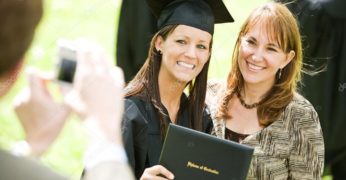 If you're a typical parent with college-bound students, you're probably overwhelmed. You want to help your sons and daughters make the right choices and prevent overpaying for their education. You're not alone! We're here to help. Schedule your free consultation today – click below to get started!
Catch our free, on-demand webinar:
How to Survive Paying for College
Join Beatrice Schultz, CFP® for our on-demand webinar, where she provides parents with the exact steps that often greatly lower the cost of college, even if there's little time to prepare.