College: A six-figure purchase decision driven by teenagers.
Guest blogger Beth Walker is the founder of Center for College Solutions and author of Never Pay Retail For College.
What could possibly go wrong?
Throw in a pandemic, parental income insecurity, differing standards regarding "safe" protocols and the "on again, off again" virtual versus classroom instruction and we have a recipe for confusion, frustration and heartbreak.
Is it any wonder this is such an emotionally charged topic for families?
And parents, wanting nothing more than to help their kids get a solid foothold for the future, often sacrifice their future retirement for the possibility of giving their kids an edge in the ever-changing landscape of employment.
And yet it's never been a better time for students and their parents to be optimistic about the prospects of finding that "right fit" college – academically, socially/emotionally and financially.
Institutions of higher education have experienced the ultimate gut check – having to define and defend their value proposition. The strong have gotten stronger, the weak will close their doors and the average have had to step up and compete more than ever before.
Colleges are worried about filling their classrooms.
This wakeup call was unexpected and has forced institutions to face issues that had been glossed over with record applications and automatic increases in tuition and room & board. Suddenly the rug was pulled out from underneath and, like every household across the globe, an honest evaluation of "must haves" versus "nice to haves" is taking place.
The real winners in all of this will be the students that power through the distractions, stay focused on the work at hand and commit to doing what it takes while those around them wring their hands and let fear, uncertainty and doubt take control.
We will look back and wonder what we did during lockdown, how we grew when no one was watching, what we did to emerge from this experience – stronger, smarter, more equipped to take on the challenges that await us.
The families that take this time to recalibrate and focus on the three pillars of success as it relates to college – academic fit, personal fit and financial fit – will find they can create a better outcome.
While we all struggle to define our new "normal", students can increase their self-awareness, understand why they want to go to college and step forward with confidence, knowing what they want to accomplish once they step foot on campus.
Just as the unremarkable caterpillar goes into a self-imposed lockdown, does all the hard work without anyone watching and one day emerges as a beautiful and different creature rising to new heights for all to see, families can take their cue from nature and commit to fostering a cocoon that allows the butterfly to take flight.
Discover a comprehensive financial plan to help you cut your costs in half in Beth's book, Never Pay Retail for College.
Ready for your own success story?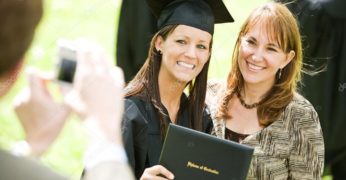 If you're a typical parent with college-bound students, you're probably overwhelmed. You want to help your sons and daughters make the right choices and prevent overpaying for their education. You're not alone! We're here to help. Schedule your free consultation today – click below to get started!
Catch our free, on-demand webinar:
How to Survive Paying for College
Join Beatrice Schultz, CFP® for our on-demand webinar, where she provides parents with the exact steps that often greatly lower the cost of college, even if there's little time to prepare.