Capital Gains Impact Eligibility for Need-Based Financial Aid
Many parents with college-bound children consider selling stocks, bonds and other investments to help pay for school, but unless said investments are held within a qualified 529 tuition plan, such as a college savings plan, the capital gains from selling those investments can negatively impact the child's eligibility for need-based financial aid.
Capital gains occur when an asset, which has appreciated in value, is sold. The difference between the purchase price and the selling price is considered a capital gain. For tax purposes, capital gains are considered income and are factored into the adjusted gross income (AGI) for the tax year in which they are earned.
The Free Application for Federal Student Aid (FAFSA) uses the preceding tax year as the base year for to determine a student's eligibility for aid. Meaning, capital gains realized in 2012 will impact the eligibility for need-based financial aid for the 2013-14 award year.
The formula used to determine a student's eligibility for need-based financial aid for a given year is based upon total income for the base year. The higher the total income, the higher the expected family contribution (EFC), and the greater the EFC the less financial aid the student is likely to receive.
Parents who are considering selling assets to pay for college should carefully weigh the impact of their capital gains on their child's eligibility for need-based financial aid. To avoid a negative impact on financial aid, capital gains should be realized at least two years prior to applying for aid. Families can also opt to off-set capital gains with capital losses to reduce the impact on EFC and balance the AGI.
While financial aid season doesn't start for another six months, parents should take a close look at their investments and assets now to help maximize their child's aid eligibility. If you are interested in learning more about funding strategies for college, contact us for a free consultation.
Photo: Jerry Bunkers
Ready for your own success story?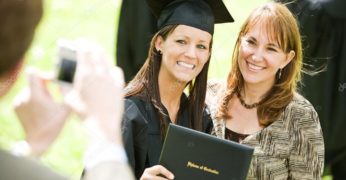 If you're a typical parent with college-bound students, you're probably overwhelmed. You want to help your sons and daughters make the right choices and prevent overpaying for their education. You're not alone! We're here to help. Schedule your free consultation today – click below to get started!
Catch our free, on-demand webinar:
How to Survive Paying for College
Join Beatrice Schultz, CFP® for our on-demand webinar, where she provides parents with the exact steps that often greatly lower the cost of college, even if there's little time to prepare.