California's "A Degree With a Guarantee"
It is now easier for California students at a community college to transfer to a California State University (CSU), thanks to a new program. On October 2, 2012, the California Community System and the CSU introduced the "A Degree With A Guarantee" website to inform students on the steps necessary for a guaranteed transfer to a CSU with a completed Associate of Arts or Associate of Science transfer degree (AA-T and AS-T respectively).  This new transfer program is part of California legislation passed in 2010 to make the transfer process easier for community college students.
According to the California Community College Chancellor's Office, the Student Transfer Achievement Reform Act requires community colleges and CSUs to work together on associate transfer degrees. The guarantee itself means that students who earn an AA-T or AS-T degree and meet the CSU minimum eligibility requirements are guaranteed admission to a CSU, but not necessarily to a particular campus or major. With the special degree, a student may be given a GPA bump when applying to an impacted campus outside their local area or an impacted major that is deemed similar. Students will also enter as standing juniors to any CSU campus.
In addition, once at the CSU, if the student is admitted and enrolled in a designated similar degree program they have the opportunity to complete their bachelor's degree with as little as 60 semester units or 90 quarter units of coursework. The guaranteed transfer program is completed when a student finishes a bachelor's degree with 120 units from a California community college and CSU coursework combined.
Not all CSUs offer the same majors or accept the same AA-T or AS-T degrees from California community colleges, so students need to consider their options. According to the Chancellor's Office, community colleges offer more than 450 new associate degrees for transfer in 20 of the most popular transfer majors, and more are being added. These degrees provide pathways to more than 300 baccalaureate degrees across the California State University system. A counselor can help the student determine which CSUs offer bachelor's degrees that correspond to their AA-T or AS-T degree. It is still important for the student to apply to the school that interests them and follow admissions deadlines to be considered.
For the latest information on the new program, check out www.ADegreeWithAGuarantee.com. The website features complete details on how the new transfer program works, up-to-date information about the transfer majors available by California community college campuses that are matched to similar bachelor's degrees at California State University campuses, interactive maps that help students find a campus, application information and a degree progress checklist.
To learn more about how Westface College Planning can help you and your student prepare for college, call us at 650-587-1517 or sign up for one of our Tackling the Runaway Costs of College Workshops.
Photo Credit: Rennett Stowe
Ready for your own success story?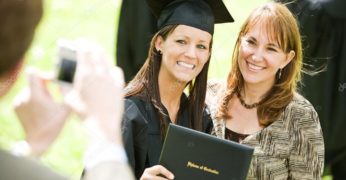 If you're a typical parent with college-bound students, you're probably overwhelmed. You want to help your sons and daughters make the right choices and prevent overpaying for their education. You're not alone! We're here to help. Schedule your free consultation today – click below to get started!
Catch our free, on-demand webinar:
How to Survive Paying for College
Join Beatrice Schultz, CFP® for our on-demand webinar, where she provides parents with the exact steps that often greatly lower the cost of college, even if there's little time to prepare.