Boomerang Generation: More College Graduates Living at Home
A recent trend is many college graduates seeking refuge through these hard economic times at home by moving back in with their parents. According to Census Bureau data compiled by the University of Minnesota Population Center, the number of 26-year olds living with their parents has jumped almost 46% since 2007. Last year, the number of 18 to 30-year olds living with their parents grew to 20.7 million, a 3.9% gain from 2010.
Many are calling it the 'Boomerang Generation,' a name given to the scores of young adults who are moving back in with Mom & Dad post-graduation or after a brief period of living on their own. Unable to find jobs in an economic downturn, more and more college graduates are returning home. The number of unemployed Americans has surged 60%, to about 12.5 million from 7.82 million in the first quarter of 2008. The nation's jobless rate, which peaked at 10% in October 2009, was 8.1% in August 2012, compared with 5.1% in March 2008.
But if there is supposed to be a stigma attached to living with Mom and Dad through one's late 20's or early 30's, young adults now–a-days didn't get that memo.  According to Pew Research Center, 78% of young adults living at home are satisfied with their living arrangements and are upbeat about their future finances. One of the reasons young adults who are living with their parents may be relatively upbeat about their situation is that this is becoming a widespread phenomenon. Among adults ages 25 to 34, 61% say they have friends or family members who have moved back in with their parents over the past few years because of the economic conditions. The number of Americans living in a multigenerational household has reached its highest level since the 1950's.
If you are a young adult who may have no choice but to move back in with your parents, there are some steps you can take to make the situation easier for everyone.
Set reasonable expectations. You may have been able to come and go as you please, leave your room a disaster and have a guest over every night while you were living on your own, but this arrangement may not work for your parents. Before you move in, take your parents aside and talk to them about what you expect and what their expectations are once your back under their roof. That includes setting some ground rules and even discussing a curfew if need be so your parents don't think something terrible has happened to you. Yes, you may be a grown adult, but your parents may not see it that way. In the same respect, your parents need to understand that they can't just barge in to your room without any notice. To keep the peace, make sure everyone is clear on how things will work.
Remember that the person who moves back in with your parents is not the same person who left. Your parents may have a very specific or outdated idea of who you are. Take a deep breath and do your best to respectfully remind them that, while you left the house as an 18-year old, you're returning to the home as an adult.
Set a time frame for how long you're planning on living there. Do you just need a place to live until you can save enough money to move out on your own again? Or do you need somewhere to live until you find a new job? Talk about how long you plan on staying – 3 months, 6 months, a year, etc. – and then check back in with your parents once the time frame is up.
Discuss money, no matter how awkward. No one really likes to talk about money. But addressing the topic with your parents will help prevent a lot of problems later on. Talk about how much you'll pay in rent, for food, if the car you've been borrowing needs more gas or repairs, etc.
Have your own support network ready to go. After living on your own, going back to living with your parents can become very isolating. Do your best to have systems in place that provide you with an outlet and support network that is separate from your parents.
We all know moving back in with your parents isn't the ideal situation. However, living at home can be a once-in-a-lifetime opportunity to finally learn how to cook or learn some shop skills from your dad. Try to enjoy the time you have with them and remember it's not a 'forever' situation; it's just another step in achieving your goals.
To learn more about how Westface College Planning can help you and your student prepare for college, call us at 650-587-1517 or sign up for one of our Tackling the Runaway Costs of College Workshops.
Photo Credit: idogcow
Ready for your own success story?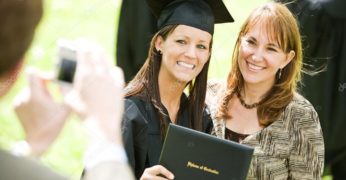 If you're a typical parent with college-bound students, you're probably overwhelmed. You want to help your sons and daughters make the right choices and prevent overpaying for their education. You're not alone! We're here to help. Schedule your free consultation today – click below to get started!
Catch our free, on-demand webinar:
How to Survive Paying for College
Join Beatrice Schultz, CFP® for our on-demand webinar, where she provides parents with the exact steps that often greatly lower the cost of college, even if there's little time to prepare.